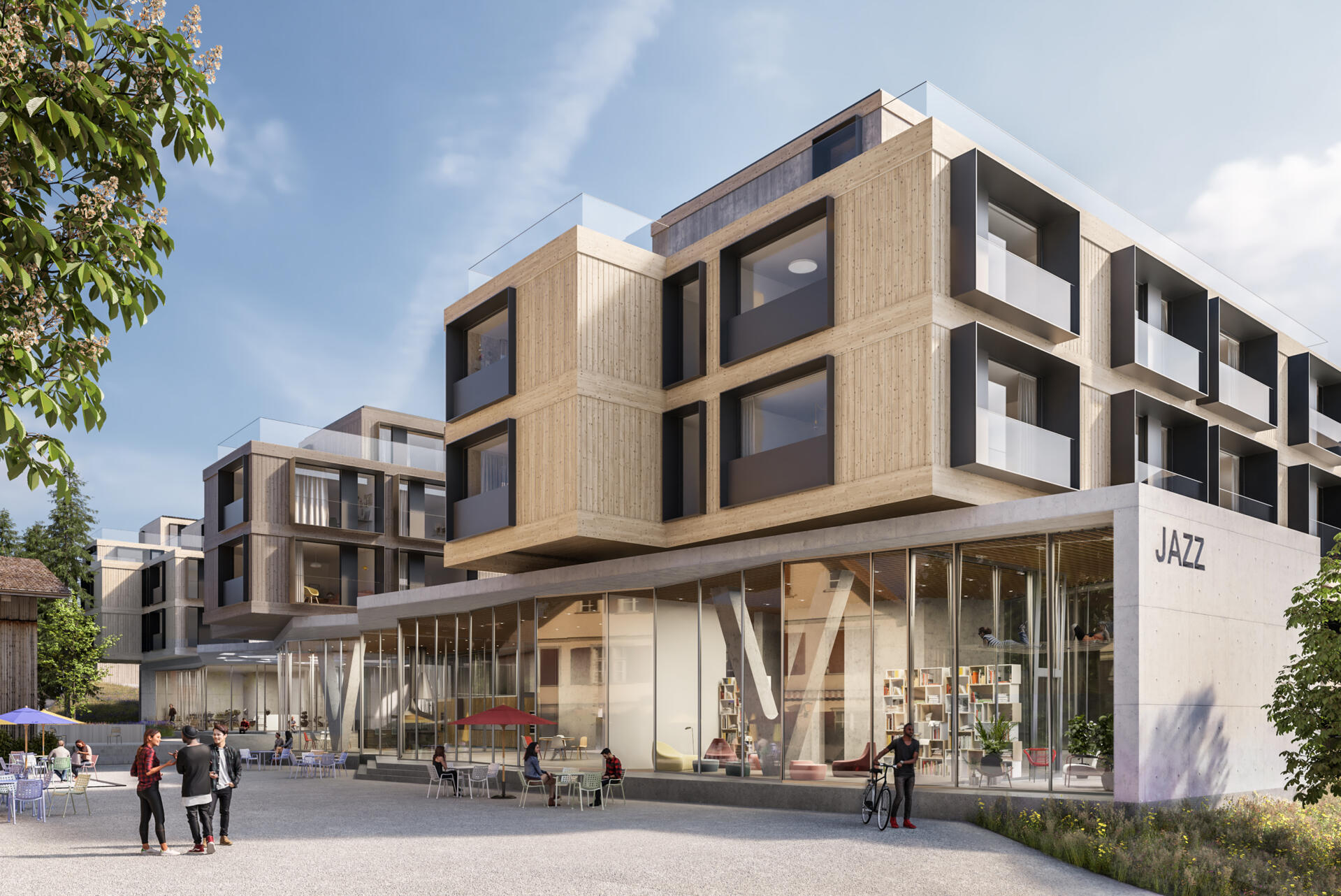 JAZZ is a concept proposal for a micro apartment development.
The project was designed for iLive Group, a developer and operator of micro apartments, and submitted to the local community of St. Gallen in response to a commission for a study to develop the Stadtsäge area.
11 BUILDINGS – 305 UNITS
The architecture of the project is inspired by its prime location: close to a bustling neighbourhood filled with residential buildings, spaces for culture and cafés and also a nearby forest, which rises on sloping hills behind the development.
The design for the 11 apartment buildings interweaves the area's natural green belt with a visionary, urban living concept to create a striking and contemporary architectural solution. Connection to nature and sustainability were key considerations. Constructed from locally sourced sustainable timber, the buildings are also externally clad in wood. Fresh, light filled interiors with a palette of natural materials offer lively and sociable living environments for students, young adults and the older generation.
The development is characterised by its own architectural language with a clear reference to the surrounding terrain. The buildings are carefully placed lengthways to offer the greatest exposure to the greenery, eye-catching views and maximum sun exposure.
The landscape flows through and between the buildings and the original topography is maintained, enabling the three to four-storey structures to sit at different heights creating an appealing spatial differentiation. From the roof terrace of the upper floor apartments, it's possible to enjoy views across the city and the Rosenberg. The private outdoor spaces are designed as compact room extensions and provide contrast with the wooden façade.
Location

Stadtsäge area

St. Gallen, Switzerland

Client

Net floor area

Number of units
Along with 305 apartments, ranging in size from single units of 23 square metres to maisonette apartments of 46 square metres, the development also features a restaurant, coworking hub, gym, an open-air cinema, a variety of meeting and conference spaces, as well as several outdoor sport facilities such as beach volleyball court and exercise areas.
The development is powered by an in-house solar system which also enables the charging of 10 electric microlinos, 20 electric scooters and 30 e-bikes, reducing the additional traffic to a minimum. These devices as well as a range of other services provided on site can be booked via the development's app The Connector.