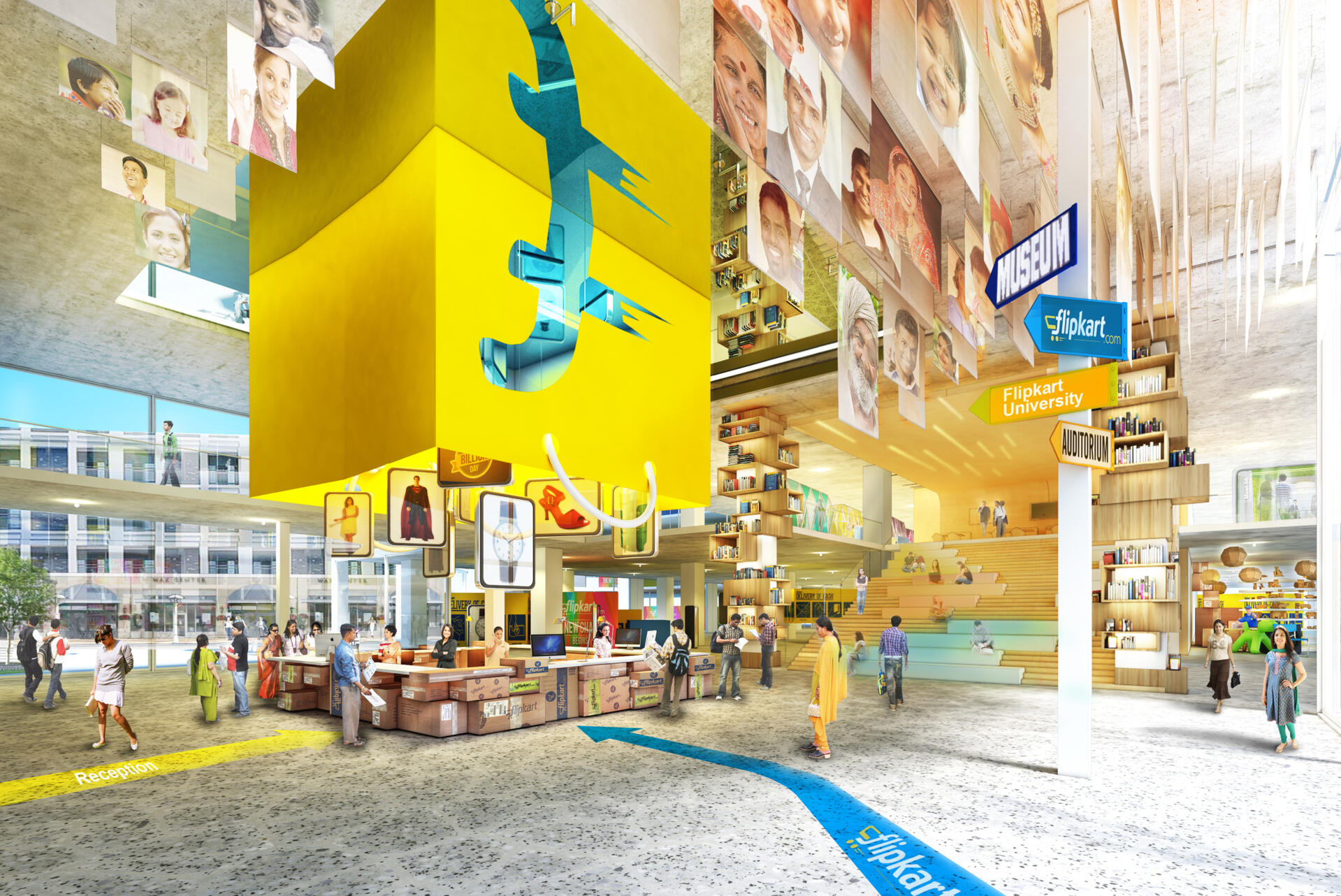 An incredibly vibrant and youthful flagship campus for the Indian e-commerce giant.
In 2018, online shopping giant Flipkart consolidated all of its Bangalore offices into one campus and commissioned Evolution Design to masterplan the functionality of the new precinct and to design a new workplace concept.
A MINI EUROPEAN CITY IN THE MIDDLE OF BENGALURU
Spread across twelve buildings in the Embassy Tech Village on the IT city's Outer Ring Road, the Flipkart campus comprises 200,000 square metres of floor space. It offers a range of office, conference and meeting areas, along with shared facilities including restaurants, food courts, gym and day care services.
The campus is modelled on the concept of a European town that contains vivid experiences. Flipkart wanted to move away from a traditional office space and instead create a more varied precinct, with an assortment of different buildings, as typically seen in any town.
Pedestrian-friendly internal pathways and bridges connect the buildings, enabling employees from different parts of the campus to connect with each other and facilitating chance encounters and collaboration. Quaint squares and hidden gardens add a further sense of interest and variety, and give staff the chance to step out of the office environment and enjoy an outdoor village ambience.
Location

Embassy Tech Village Road

Bangalore, India

Client

Net floor area

Building plot

Project started

11.2015

Project completed

04.2018

Local architects
OPEN INTERIORS THAT CREATE AN ELEMENT OF SURPRISE
The overall design layout, material selection and detailing are based on Flipkart's forward-thinking approach to its business and reflect the working life and culture of the company. The design is efficient and modest yet functional and comfortable as well as contemporary, open, bright and lively.
By adopting a people-centric workplace concept, Flipkart aspires to increase employee productivity. One way of doing it was by introducing activity-based working. Flipkart adopted an open-floor model as a true reflection of its culture – non-hierarchical, highly collaborative and evolving as fast as the company is growing. The open plan workspaces are surrounded by a vast variety of meeting rooms and collaboration areas along with indoor plants and specially designated quiet zones for concentrated working. «We also increased the number of writing surfaces – at desks, meeting rooms and open office areas,» says Nagaraj Kulkarni.
Overall, the design relies on sensible and robust materials that support the way Flipkart uses the space. Interiors deliver optimal use of natural lighting across all floors and a variety of different aesthetic treatments help to create an element of visual surprise.
The application of five Flipkart brand colours across the floors added a further sense of playfulness and reflects the youthful population of the facility. Meet Me on The Flip Side – a concept derived from energy and collaboration as keywords, combined with the ability to look at things from a different angle – became the theme of wall graphics and meeting room names across the campus buildings.