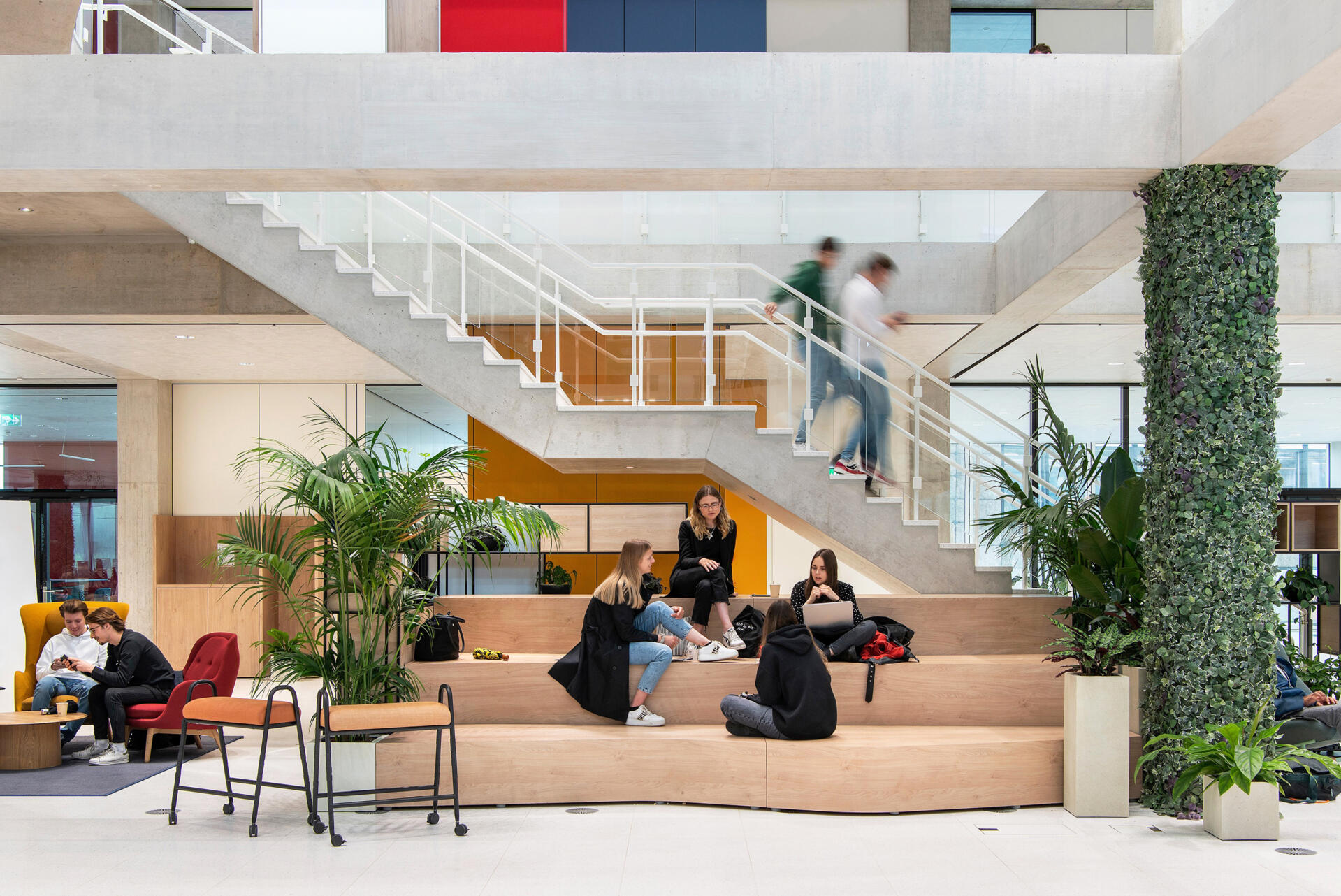 Based on the concept of unbroken connectivity, transparency and multifunctionality, University of St. Gallen's learning center SQUARE models new ways of learning and interaction between students and lecturers.
SQUARE combines the architecture by Sou Fujimoto Architects and the learning design by Evolution Design.
EXPERIMENTAL FIELD FOR FUTURE LEARNING
SQUARE is an experimental field for new, future-oriented forms of learning and teaching. The newly finished center, built as an open grid, is designed to enable innovation and dialogue and become a place of surprising encounters and mutual inspiration. SQUARE offers students and lecturers an innovative environment for learning and teaching and gives them the tools to try out new things. In addition, SQUARE is also a public place for encounters and dialogue – between the experts of science, business, politics and culture.
Location

Guisanstrasse 20

St. Gallen, Switzerland

Client

Net floor area

Building volume

Project started

06.2021

Project completed

02.2022

Awards
CONTENT DESIGN
In order to bring the new learning and teaching formats to life, SQUARE is uniquely managed by an artistic director (Intendant), a term normally reserved for directors found in the world of art and culture. In this sense, the building serves as a theatre that has to be filled with play: an excellent programme of events, presentations, discussions, exhibitions, personalities and spontaneous gatherings. «We interpret the function of the artistic director's team at SQUARE as one that sets a strategic direction,» says intendant Philippe Narval.
Evolution Design was asked by the intendant team to develop a furniture concept that enables such experimental learning and teaching and to fit out the 5,700-square-metre building and several roof terraces.
FLEXIBLE FURNITURE CONCEPT
SQUARE consists of open plan areas – designed as a surprising journey through bustling squares and lounges to more quieter niches – and 15 rooms extended across 3 floors. All spaces have been fitted out with extreme flexibility in mind, enabling all rooms and open areas to be modulated freely. This is why all areas are equipped with movable furniture and equipment that perfectly match the requirements of the event taking place and the number of people in attendance.
A toolbox concept
The ground floor welcomes visitors with a sophisticated cafeteria, a lounge, rooms for learning and pop-up events and the main open plaza centred around the spectacular atrium which extends up all three levels. Flooded by daylight and accentuated by the bold inserts of red and abundant indoor greenery, this is a bustling space where activities change daily: ranging from events with the participation of external guests to workshops, masterclasses and courses, and students working in groups on their projects.
To accommodate such daily diversity in use, the architects developed a toolbox concept – a set of elements like furniture, presentation equipment, a foldable stage, rugs and plants – all of which can be easily combined to create distinctive layouts and atmospheres within the open plaza. To increase the spatial versatility, most items – from chairs and stools to whiteboards, tables and plants – are fitted with castor wheels allowing the items to be moved around freely.
The upper floors provide further spaces for group learning, presentations and events, all having access to several beautifully furnished roof terraces. On the top floor, designed in green and blue tones to create a feeling of tranquillity, islands of diner-style seating are separated from several quieter niches by green divider walls. Without losing the sense of interactivity and exchange, here learning and dialogue take place in a calmer atmosphere.
The top floor also houses three special meeting rooms that are designed to enable group activities in a more relaxed way. The Amphitheatre, equipped with custom-made stepped seating, is a popular choice for presentations and open group discussions, while the Campfire facilitates quality conversations, creating a slower, more reflective exchange. The Tea House is designed as a conversation area consisting of a sunken sofa and a large table and is specifically created to foster a strong sense of group work. Conversations, learning and exchange happen here in an informal atmosphere. In accordance with the most sophisticated tea ceremony traditions, this is a shoe-free area.