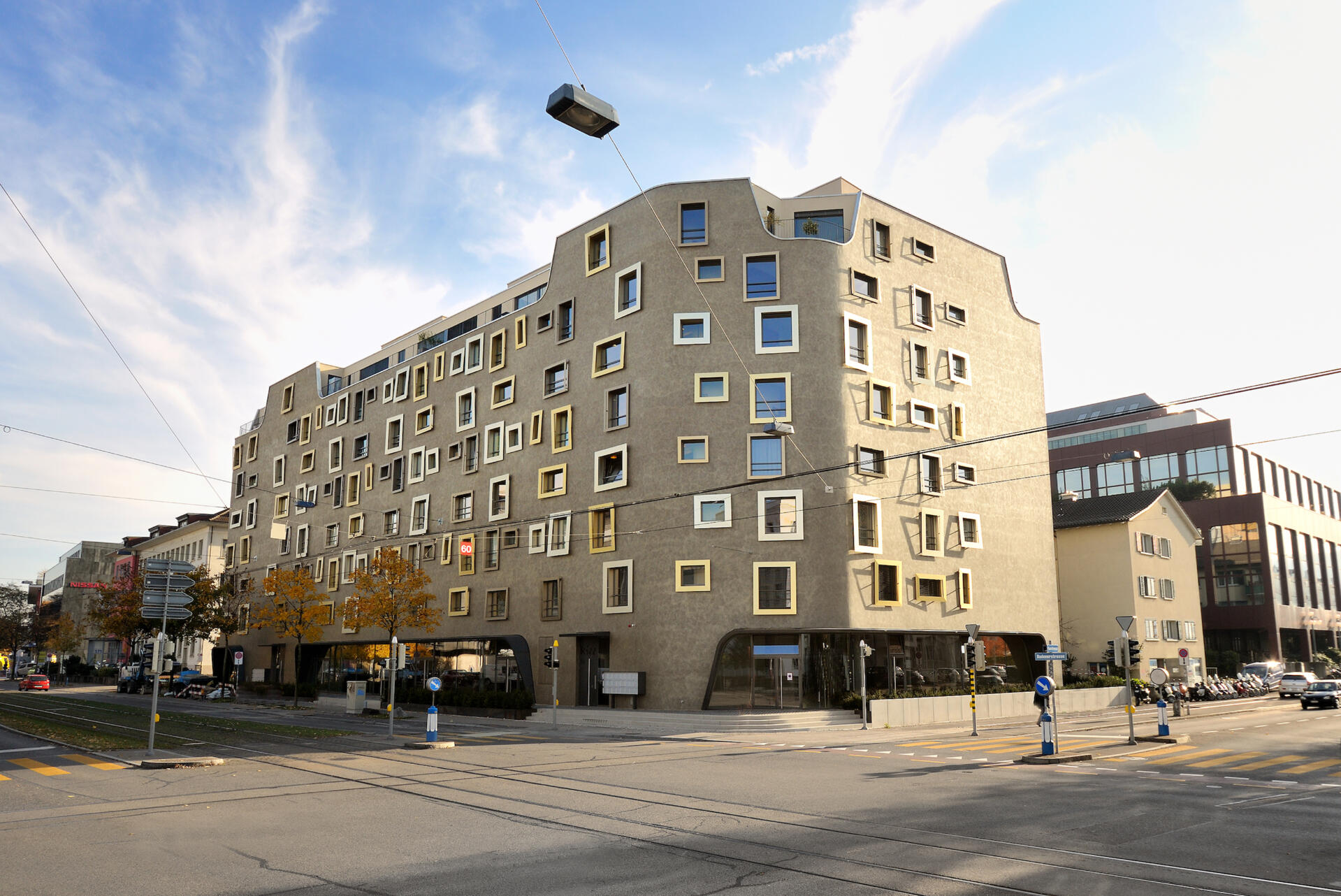 K.I.S.S. is a striking residential development with 46 individually styled maisonette apartments in Zurich.
The project responds to the growing demand for identity and individuality in the rental industry by offering tenants three differently styled apartment typologies to choose from. This approach goes beyond the pure functionality and puts the future tenants and their lifestyle at the centre of the project concept.
SINUS-MILIEU MODEL
To begin with, the architects carried out an intensive market research of the area. This knowledge, together with the Sinus-Milieu Model, helped to gather potential customers of similar lifestyles and perceptions into three specific target groups.
INTERIOR CONCEPT
The result was a bold concept of individual maisonettes (2.5-4.5 rooms) with striking interior designs. The tenants were given the choice between three distinct apartment characters CLASSIC, INDUSTRIAL and FUNKY.
The FUNKY stands for (K)Cool, Insiders, Snowboarders and Surfers/Sea-lovers. Bold colours, wall graphics and funky materials characterise this apartment type.
The INDUSTRIAL stands for (K)Clear, Industrial, Sovereign and Sympathetic. Clear and contemporary exposed concrete, stainless steel in the kitchen and plywood panels support the industrial character of these apartments.
The CLASSIC stands for (K)Culture, International, Subtle and Style. Timber floors and light matching colours in the kitchen, cosy bathroom and a fresh-looking living/dining room create a comfortable space.
Location

Badenerstrasse 575/581

Zurich, Switzerland

Client

Net floor area

Project started

06.2009

Project completed

07.2011

Sustainability

Awards
EXTERNAL APPEARANCE
Also in its external appearance, K.I.S.S. creates an independent sculptural building with the north and south façades as opposites. To the north, the shiny façade with slightly tilted metal window frames gives the building its unmistakable identity. The window openings are designed differently for each apartment type and reflect the position of the apartment typologies.
The building opens up towards the south with floor-to-ceiling windows, generous terraces and balconies. The delicate suspended balconies are individually designed with coloured blinds to match the apartment typology on the inside and impart the southern façade with a friendly and lively feel.