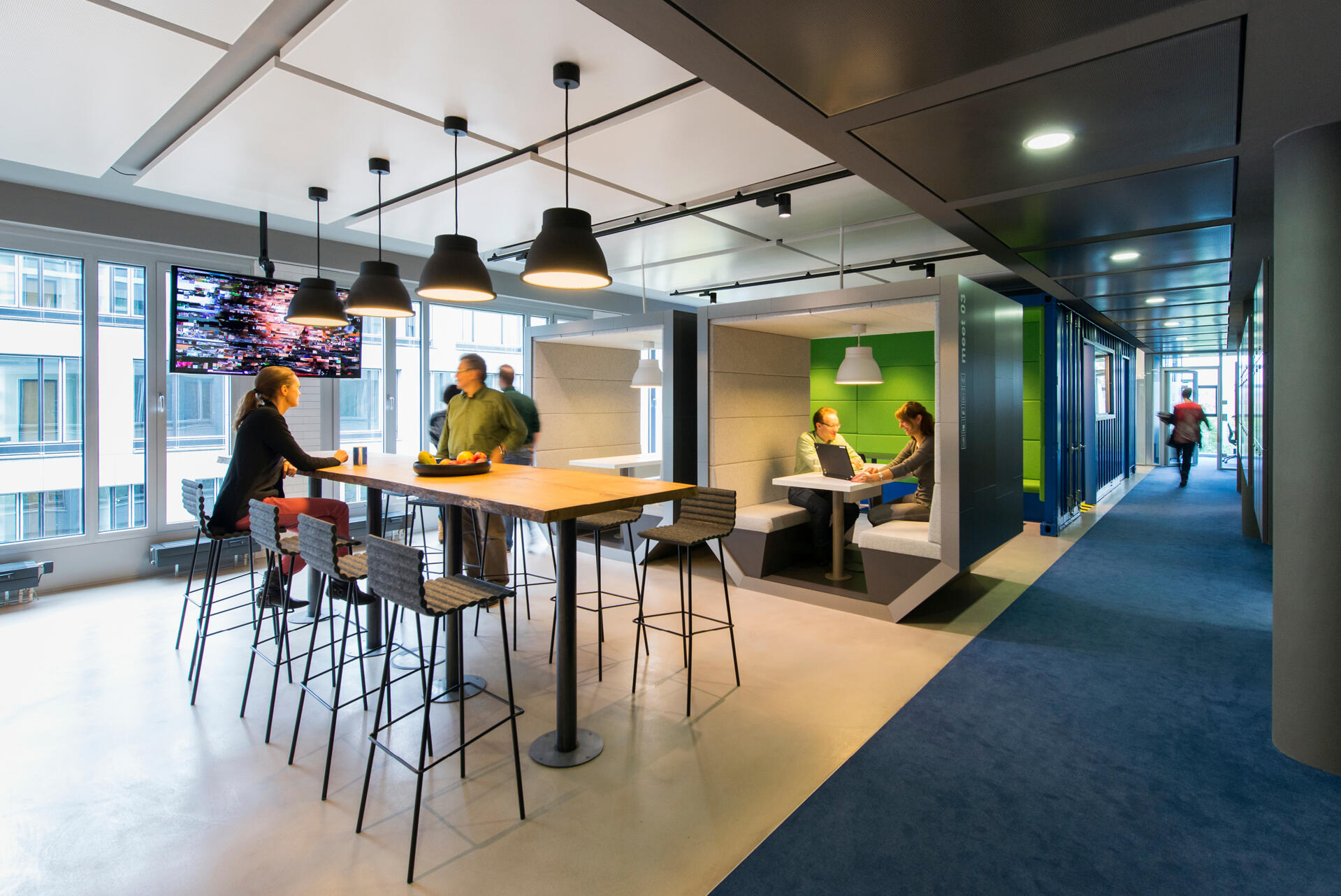 Evolution Design has developed a corporate architectural concept for the financial consultant zeb.
The new workplace concept has been adopted in zeb's offices in Munich, Berlin and Zurich.
PROJECT BACKGROUND
Zeb is a German strategy and consultancy firm that specializes in financial services. The firm commissioned Evolution Design with developing its corporate architectural concept, starting with the office in Munich. The workplace concept, which was developed as a roll-out project, was later implemented in zeb's locations in Berlin and Zurich.
Location

Hammer Straße 165

Münster, Germany

Client

Project completed

09.2016

Local architects
FOUR ZONES FOR ACTIVITY-BASED WORKING
«Our old premises, spread across two floors, were too small and became increasingly unsuitable and outdated. The relocation gave us an opportunity to develop a new workplace concept that was completely different from offices in Frankfurt or Hamburg, and this is how we embarked on a journey with Evolution Design,» tells Olaf Scheer, former managing partner at zeb.
The design concept was modelled around the values and corporate identity of zeb. Dominated by the earthy shades of blue and green, the office spaces are divided into four main zones. The so-called Homezones are areas with standard workstations and some individual offices that can be used by all zeb employees. The Quiet Area is a place of retreat for focus work in silence, but without being isolated from the remaining office behind closed doors. This area is styled as a cosy library with custom designed work stations that double as partitions and noise-reduction task chairs for additional peace and quiet.
The Meet & Exchange zone provides space for meetings and video conferences and also includes spaces for team project work and phone and video booths for calls requiring privacy. The Smart Connect zone is a multi-functional area, suitable for a wide range of activities: here employees can meet, collaborate, exchange ideas, or have a coffee and eat lunch together in an informal atmosphere.
INDUSTRIAL FEEL
In line with the overall industrial feel of the new workplace concept, former airplane seats have been transformed into phone booths and an upcycled shipping container now serves as a cosy meeting room. Accents of bright yellow and wood further enhance the earthy colour scheme and add a fresh vibe to the overall appearance.