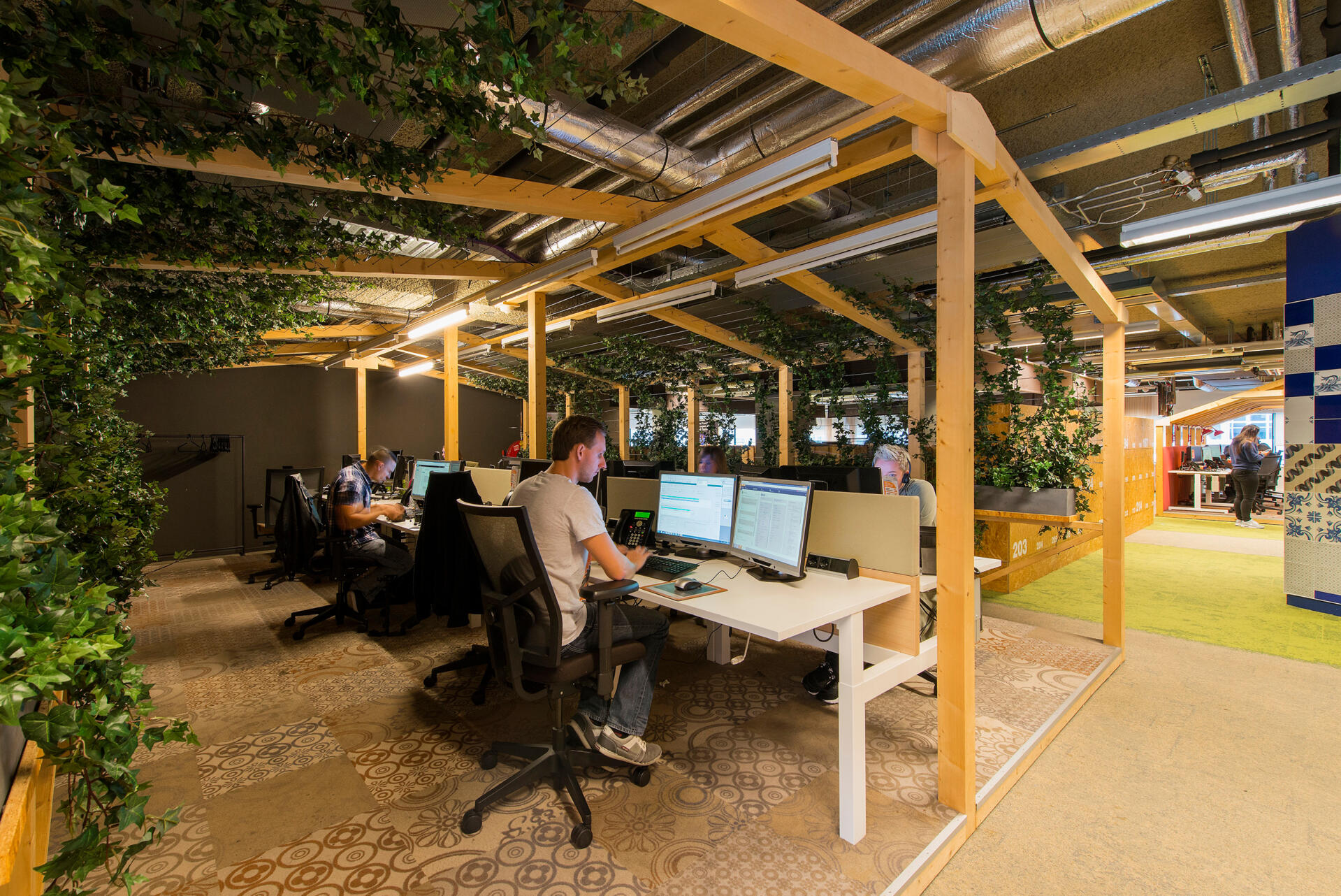 Vodafone-Ziggo Call Centre
A unique call centre designed to motivate employees and reduce staff turnover.
THE CHANGING CULTURE OF CALL CENTRES
Call centres are changing. In many companies, they are now the first point of contact with customers and are increasingly important in growing new business and ensuring customer satisfaction. As companies recognise their growing importance, the boiler room approach is disappearing and call centres are beginning to morph into a corporate centrepiece. 
Evolution Design was commissioned by telecoms company VodafoneZiggo to look at how workplace design could help motivate employees and improve staff retention.
«Call centres are very regimented environments, where everything from break times to call times are controlled,» says Evolution Design executive director Stefan Camenzind. «We wanted to create a space that gives staff more choice about how and where they work and also helps foster a greater sense of teamwork and belonging.»
Location

Weena-Zuid 170

Rotterdam, Netherlands

Client

Net floor area

Project completed

11.2015
SEVERAL ZONES FOR MORE VARIETY
VodafoneZiggo's call centre is spread over several large open plan areas, which Evolution Design converted into series of smaller work spaces, using low-cost solutions such as simple wooden frames, acoustic panelling or a change of flooring to demarcate different zones.
«In a call centre, every person does the same job and needs the same equipment, so the tendency is to have a battery of desks in a line,» says Stefan Camenzind. «We decided to take a different approach and create a series of different environments within the space, so that staff can choose the atmosphere in which they prefer to work.»
People can now choose to work in areas as diverse as a plant covered 'greenhouse', open plan spaces with bright yellow accents and colourful floor tiles or in a more urban-style zone that uses reclaimed wooden pallets to divide and decorate. Throughout the centre, desks are height adjustable so employees can choose whether to sit or stand.
The office also includes a central reception area with meeting and training rooms and a colourful break out space with comfortable sofas, a café and a games zone complete with table football and video games.