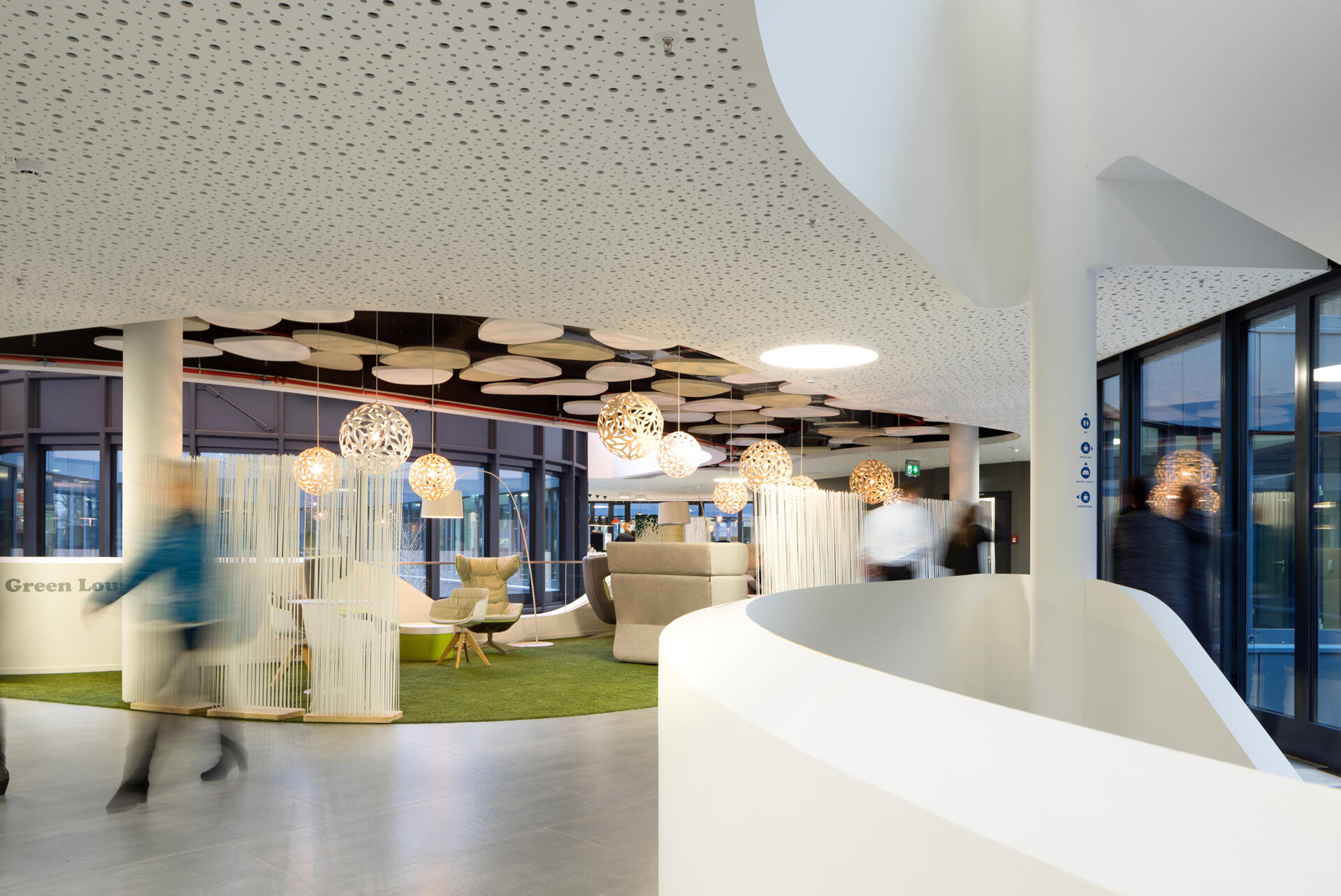 Progressive bank headquarters that reflect the open and transparent culture of this German financial institution.
LOW-RISE VOLUME WITH SPACIOUS INTERIORS
The construction and planning of the new TeamBank head office was a result of a design competition that was won by the Austrian architecture firm Baumschlager Eberle. According to the project brief, the new building had to reflect TeamBank's open and transparent business culture, which resulted in a low-rise volume and spacious, open plan interiors. Evolution Design was appointed to develop the workplace concept for this 15,000-square-metre building.
Location

Beuthener Strasse 25

Nuremberg, Germany

Client

Net floor area

Project started

03.2013

Project completed

11.2014

Local architects
WORKPLACE DIVIDED INTO ZONES
The biggest challenge of the project was the change from a traditional workspace with dedicated desks to activity-based working. By introducing desk-sharing, more space was gained for areas that stimulate collaboration and creativity. «By allocating more space for meeting and creativity zones, our aim was to stimulate networking that helps build internal relationships and raises our agility, quality and innovative strengths,» explains Alexander Boldyreff, former CEO of TeamBank.
The entire space, comprising four floors, was divided into zones, each devoted to a different type of activity: from standard workstations to large workshop areas, different types of meeting rooms, fitness zones, coffee points and restaurants.
All zones were modelled on the concept of a city, with the main staff restaurant and a barista bar resembling a vibrant marketplace, coffee points looking like city squares and parks, and the workstations created as cosy areas with individual characters. Differentiation of these zones was achieved through the use of varying colour, material and furniture concepts.
CUSTOM GRAPHICS CONCEPT
Another important part of the interior fit-out was the branding concept. A custom wayfinding design was developed to aid internal navigation in addition to a bold graphics concept reflecting the extraordinary company spirit. Large-scale glazing, graffiti and wall graphics with references to company vision and Nuernberger culture were applied throughout the building.
The result is an inspiring workplace that reflects TeamBank's spirit and business ethics and one that TeamBank's employees can strongly identify with.