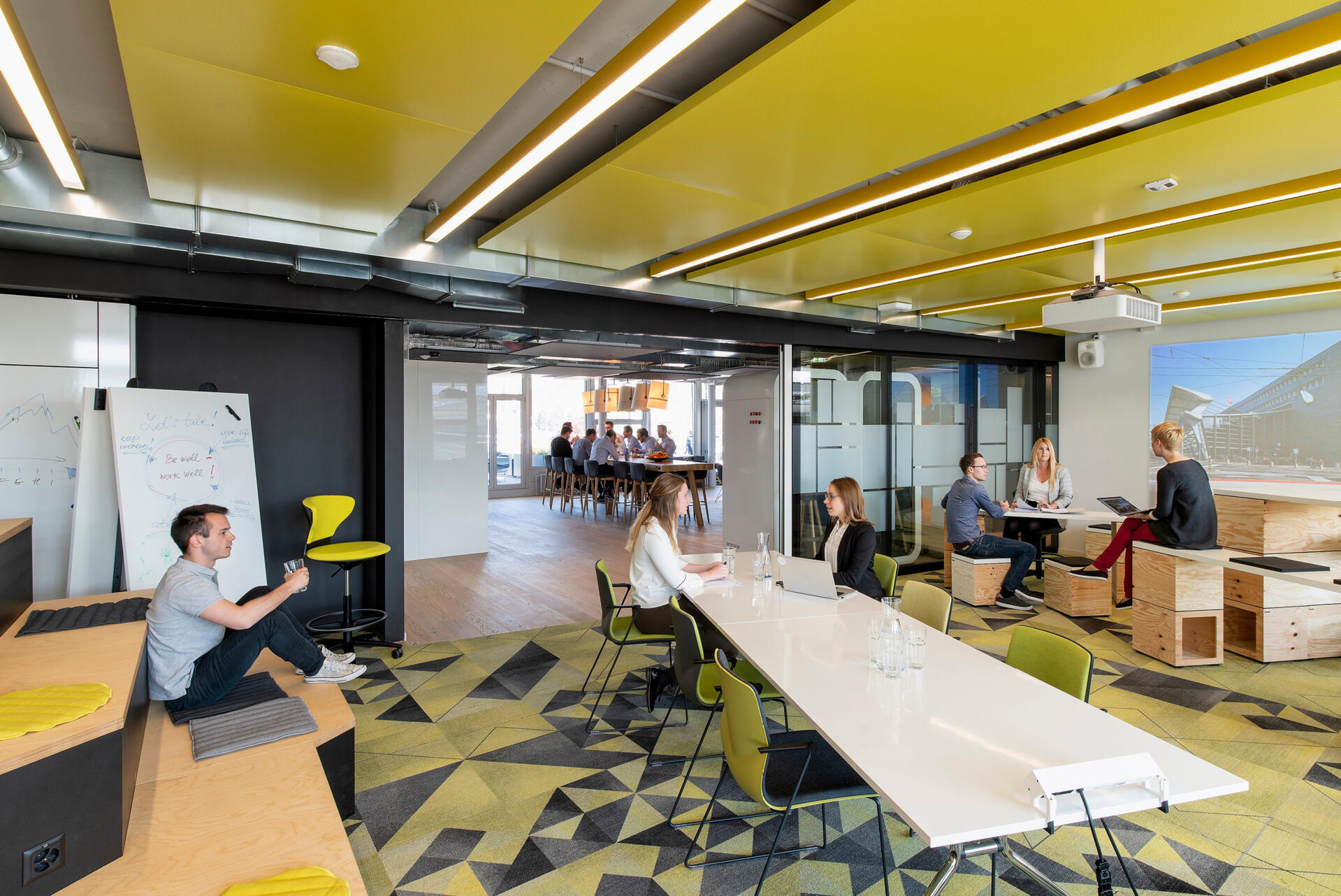 A workplace designed to promote collaboration and offer diverse work settings.
By relocating to a new location, PwC Lucerne team saw the opportunity to create a work environment that flattens internal hierarchies and facilitates efficient communication.
Location

Robert-Zünd-Strasse 2

Lucerne, Switzerland

Client

Net floor area

Project completed

12.2018
Large hub and co-working space
The PwC Lucerne team was previously spread across two building blocks before acquiring the new space. All employees are now based on a single floor, enabling better teamwork and higher efficiency. 
The new office is divided into three main zones, moving from loud to quiet. At the front of the office is a bustling employee hub with a large co-working space and a coffee point. The space is used for internal events and lunch breaks and also for larger meetings and presentations with external guests. A beautiful terrace, viewing across Lucerne's old town, offers outdoor space for informal gatherings, lunch breaks and meetings.
Team, standard and focus workspaces
The largest workspace – the team area – is designed for group tasks and features large shared desks. The noise level here can be relatively high – people are free to talk to each other, make phone calls and work together on various tasks.
The standard workspace is a desk area where people work alone rather than in groups. Desks are demarcated with privacy panels and storage units to provide more privacy and reduce noise levels, though short conversations and phone calls are allowed. This area is designed for focused, concentrated work, but team members are still easily reachable. All workspaces are surrounded by a number of think tanks for smaller meetings, individual work and phone/video calls that require privacy.
In the focus area, a space for concentrated work, phone calls are not permitted. The focus area is equipped with seated/standing desks and privacy lounge chairs, enabling both concentrated work at the desk or a more relaxed setting for working on a laptop.
Flexible furniture setups
Along with choosing ergonomic chairs and height adjustable desks, each area also makes use of a variety of chair and table types, ranging from low sofas and coffee tables to taller stools alongside bar height desks.
In the focus zone, work lounge chairs provide a place of shelter and seclusion. These chairs shield users both visually and acoustically from the surrounding environment, forming a space for retreat and contemplation. «We believe that empowering people is the most effective way to reduce stress levels,» says Carolin Michalka, associate and project lead at Evolution Design. «The design here is all about making it easy and enjoyable for people to perform a task in the best way possible. It's functional, but also emotional – people can choose where and how to work.»
In the workshop space, multi-functional furniture that can meet a variety of team tasks has been chosen. This includes large white foldable desks that can double as whiteboards and wooden boxes that can transform to become a table, bench, platform or shelf. «The spaces are designed so that people can sit and move in different ways. We want people to become more active within their working hours, but we don't want to be prescriptive in how they do this,» says Carolin.