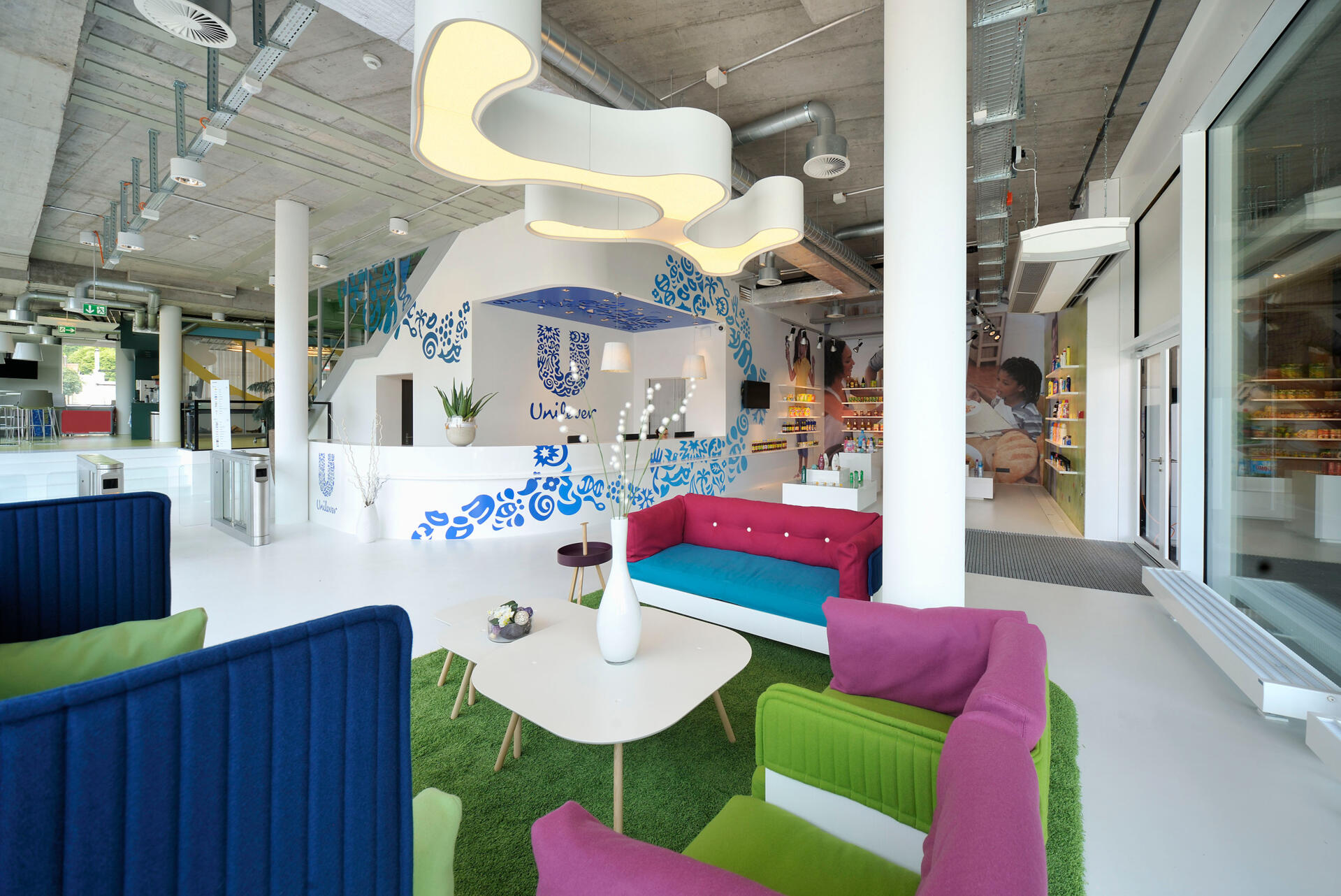 Unilever offices deliver an agile workplace that embodies Unilever's values and showcases its brands.
By expanding the Schaffhausen-based offices into the main European hub for Supply Chain Company,  Unilever commissioned a striking showcase office for the new global workplace design.
Evolution Design was tasked with creating a hub that reflects Unilever's core values to employees, clients and visitors alike, and establishes a global agile workplace concept: a flexible approach designed around activities to maximise collaboration, employee engagement, health and well-being.
Location

Mühlentalstrasse 2

Schaffhausen, Switzerland

Client

Unilever Supply Chain Company

Net floor area

Project completed

07.2011
INTERNAL STAIRCASE FOR SOCIAL CONNECTIVITY
An essential part of the project was the transformation from the existing traditional workspaces into flexible working. This was achieved by dividing the workplace into several zones designed to support different types of activities: Focus Zones for individual working, Connect Zones for collaboration and Vitality Zones to socialise and revitalise.
The standard workspaces and meeting rooms were distributed along the periphery of the building, and an open, centrally located staircase was inserted linking all three floors for visual and social connectivity. The open-plan office creates a greater sense of a single team working together and allows for people to choose where they work, depending on the task or team they are working with.
VITALITY AND WELL-BEING
The fresh and vibrant Deli-Bar and the warm and inviting Coffee Hub in the Vitality Zone introduce new social spaces on the building's two main floors. Their central location makes them an informal alternative to meeting rooms, for collaboration, networking and creative brainstorming. Dedicating special areas for employees to revitalise and relax also reflects Unilever's commitment to helping people 'feel good, look good and get more out of life'.
Well-being and giving people a choice is also reflected in the Focus Zones which were designed to create motivating and diverse settings and inspire employees to excel in their daily work. Some quiet areas are styled like cosy libraries, while other areas resemble a soothing garden.
STRONG BRANDING FOR IDENTITY AND BELONGING
Another important part of the project was creating a sense of belonging and employee pride in Unilever. This was achieved by applying strong visual branding on the core elements, displaying Unilever visions and values. Mixed product branding was cleverly employed in the individual meeting room designs, with each meeting room named after selected Unilever brands. Quiet Areas and Vitality Zones were designed with a concept of atmospheric branding that evokes feelings of certain brand attributes.
A SHOWCASE OF VALUES AND VISION
By engaging employees and visitors on so many different levels, Unilever's offices in Schaffhausen are an excellent example of how a company can bring its core values and vision to life in the context of an agile workplace – creating a flexible space designed to bring collaboration and engagement together to deliver a truly great place to work.