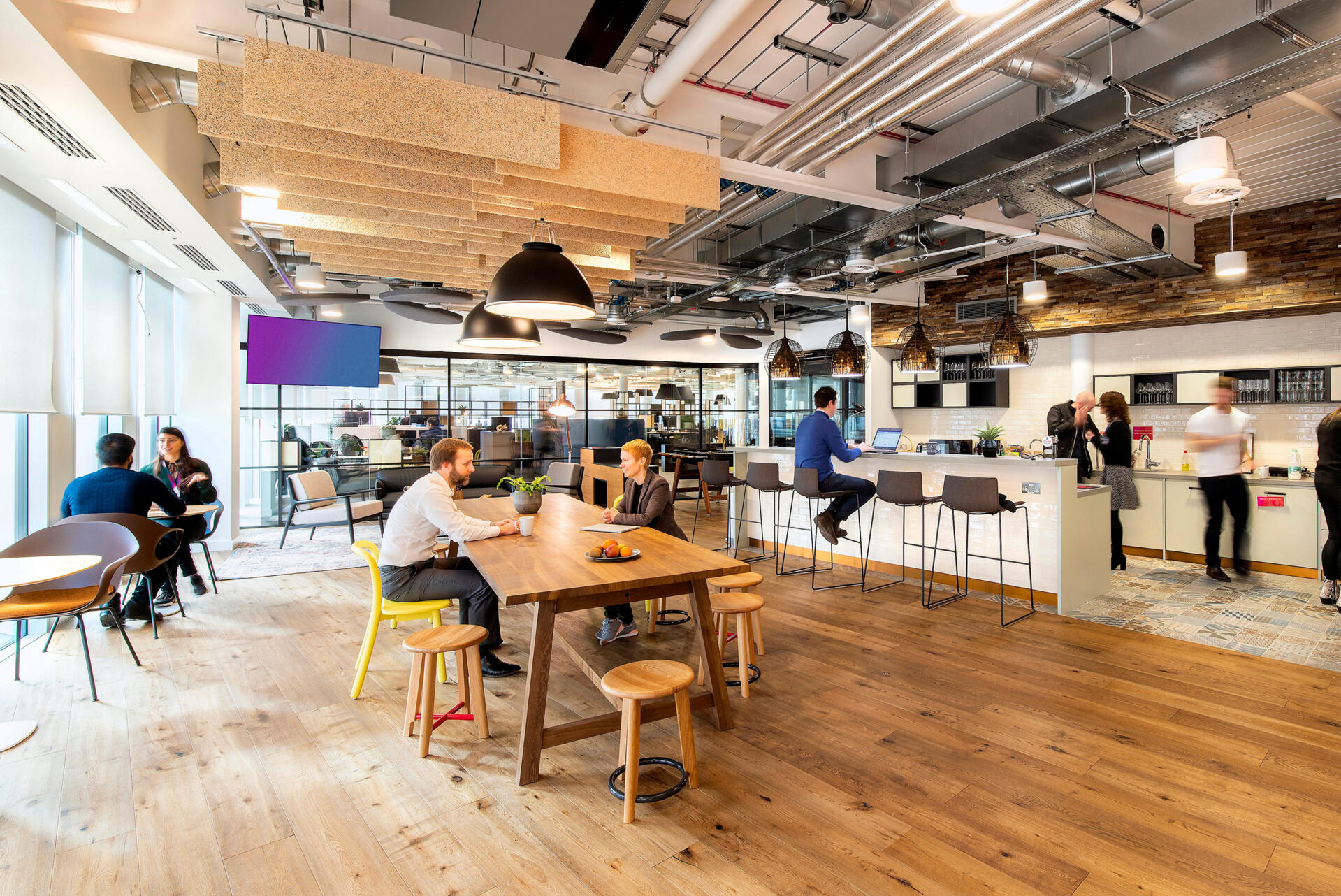 A workplace designed to provide a healthy and productive environment.
HB Reavis is an international real estate developer that focuses on providing workspaces that enhance user well-being and productivity. The firm's debut project in London showcases healthy, sustainable and technologically advanced work environments.
PROMOTING HEALTH AND FLEXIBILITY
Following the IWBI's WELL Building Standard, the workplace design aims to address the health issues associated with modern offices, such as stress, lack of mobility, bad lighting and poor air quality.
As research shows, the single most effective method of reducing stress at work is to provide employees with the right type of spaces for the task they are undertaking. The HB Reavis UK office includes quiet areas, focus booths and phone boxes for individual work, along with a variety of informal and formal meeting rooms and creative areas.
Instead of having assigned individual workstations, there are flexible team spaces fitted with shared sit/stand desks. The office is designed to encourage people to move around and be more active during working hours, as movement and activity are crucial for energy and health.
Location

33 King William Street

London, UK

Client

Net floor area

Project completed

02.2019

Sustainability

Targeting WELL Gold Certification

Awards
BIOPHILIC FEATURES
To further enhance the concept of health, particular attention has been paid to biophilic design. Wellbeing is increased when there's a direct connection to the natural world and the office is filled with plants, foliage walls and sustainable wood finishes, while the large windows, overlooking the City and the River Thames, flood the space with natural light, reducing reliance on artificial light.
The office building also incorporates several sensory technologies to assess – in real time – whether the spaces are operating as they should. All rooms measure CO2, noise, luminance, temperature and VOC levels with an alert system that suggests how users can improve the environment to ensure maximum productivity and wellbeing.
TEAM HUB FOR SOCIAL INTERACTION
Another important aspect of the design was to enable staff to connect and build relationships. The employee hub, located at the heart of the office, has a coffee point and offers healthy snacks. This central space encourages staff from different teams and different departments to meet informally, chat, exchange ideas and be inspired by others.
Two water taps serve chilled, room temperature, sparkling, warm and boiling water, which will not only reduce the need for bottled water, but research has shown will also help to improve productivity by up to 14% by keeping everyone properly hydrated.
SUSTAINABLE MATERIALS AND FINISHES
Aesthetically, the space has an industrial feel that reflects HB Reavis's construction background, with materials including brick, reclaimed wood and metal along with an exposed ceiling and Crittal window-style partition walls. Furniture from Scandinavian and Dutch brands add refinement to the scheme.
Incorporating high specification finishes and quality materials with a focus on sustainability, HB Reavis UK headquarters is one of the only buildings in London targeting a WELL Gold Certification.