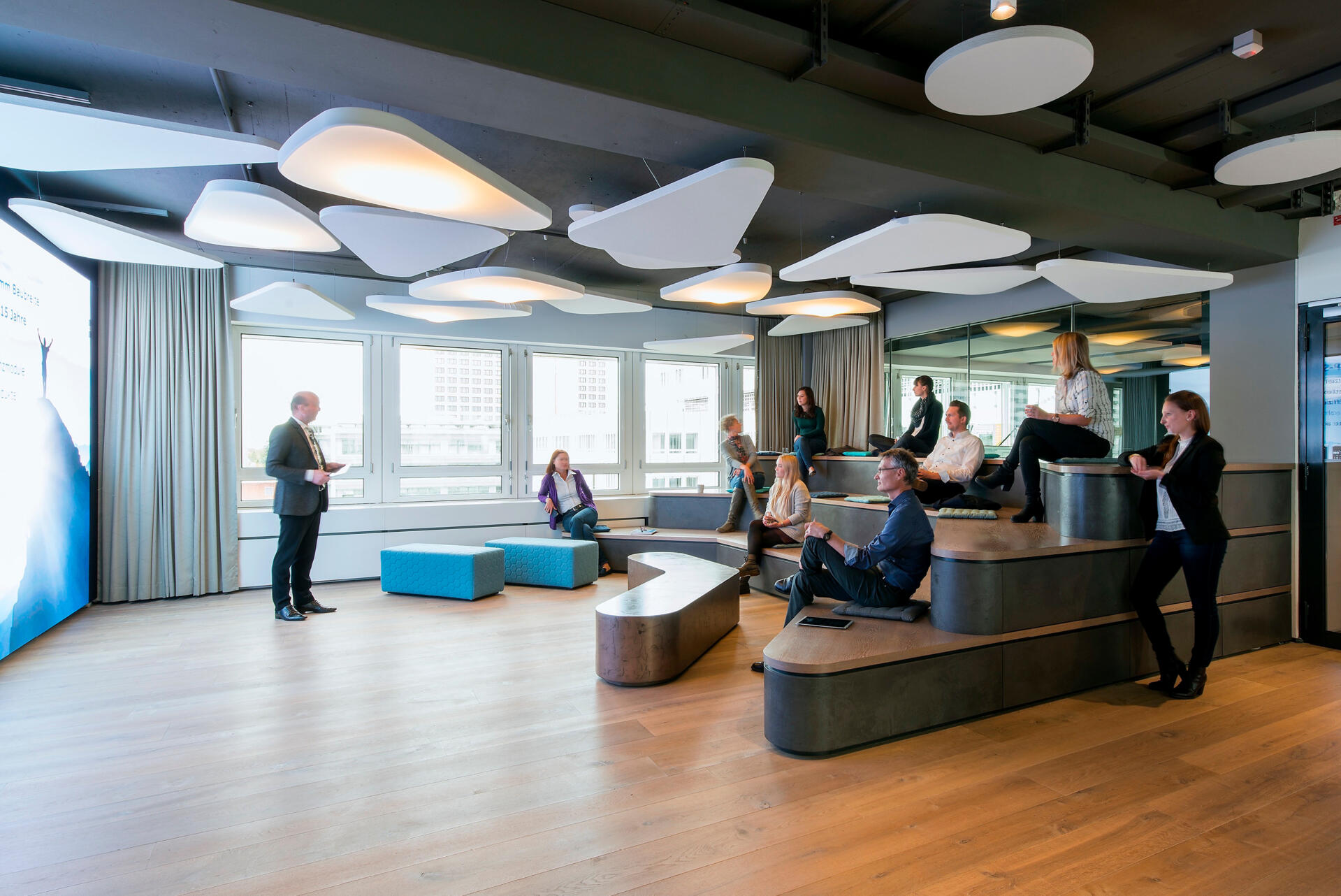 A workplace that moves the company culture away from islands of lonely workers to a networked community.
STAFF-CENTRED HEAD OFFICE
PULS is a medium-sized business that specialises in creating industrial power supplies. The company took the opportunity of changing its premises for a complete modernisation and digitalisation of its workspace and tasked Evolution Design with designing its new, staff-centred head office in Munich.
VILLAGE WITH NEIGHBOURHOODS
The entire workplace concept was drafted in close collaboration with the HR team and PULS employees, who showed a strong sense of belonging to the PULS family. The new workplace environment was therefore developed around the concept of a small village. Each team is located in a distinct neighbourhood, with individual colours and a bold graphic concept defining and demarcating the space.
The overall aim of the new workspace was to bring together different departments to foster teamwork and collaboration – with engineering, manufacturing and IT specialists now closely connected to sales and marketing, HR and senior management.
Location

Elektrastrasse 6

Munich, Germany

Client

Net floor area

Project completed

03.2017

Awards
MORE SPACE FOR COLLABORATION
Based on staff feedback, PULS decided against adopting desk-sharing and instead assigned individual desks to each staff member. But the overall area devoted to individual workplaces was reduced, delivering more floor space for communal areas and collaborative working. These include a large central amphitheatre for presentations, team meetings and events with clients; a coffee point that doubles as a cosy space for shared lunches and formal and informal meeting spaces: creative rooms, lounges and meeting pods.
SUCCESS THROUGH COMPANY CULTURE
The new approach is driving cultural change at PULS, with teams reporting a significant increase in internal communication, particularly between R&D and other departments. The company has also seen a rise in informal meetings, known to be one of the key reasons for people returning to the office after the global pandemic.
Along with helping foster innovation and boost team spirit, the workplace is also enhancing PULS' values and culture. By differentiating it from other engineering companies, the design is playing a part in helping the company attract new talent.