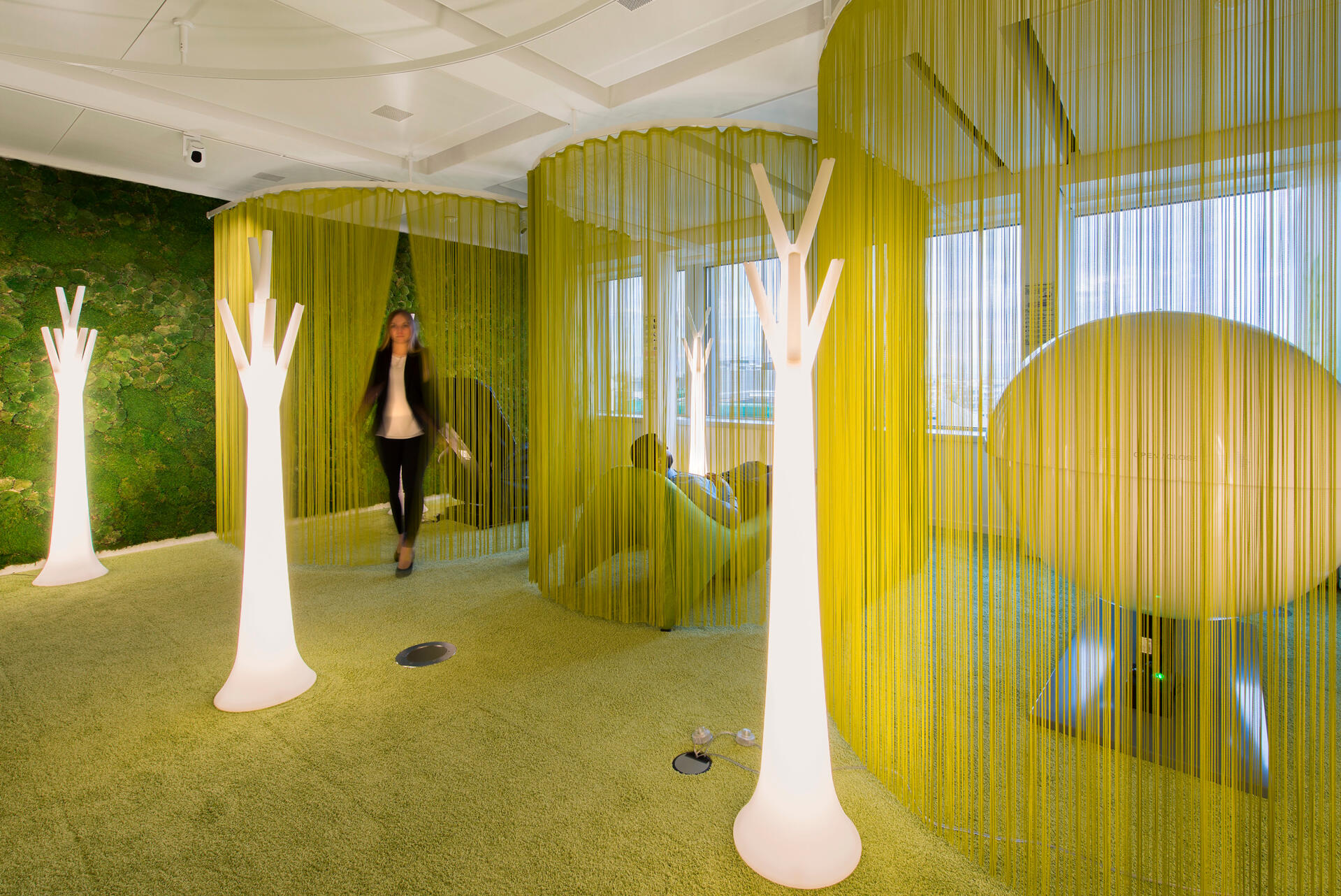 A workplace designed to improve well-being: from activity to rest and nutrition.
With physical and mental well-being being a key business objective for PwC, the office in Basel was one of the first workplaces in Switzerland specifically designed with employee well-being in mind.
Activity-based work zones
The office space offers a wide choice of working areas and employees are free to choose the kind of work environment that best suits their mood and task at any given time – whether that's meeting in a think tank, working at the coffee bar in the sociable hubs or using a sound-proof phone booth when making video and phone calls.
All four floors that PwC occupies in an office building are divided into three key zones. The Focus Space is a desk area where employees can work on their own projects while still being part of a team environment. For group tasks that involve exchange of ideas, experiences and short brainstorming sessions, the Team Space features large shared desks, whiteboards and walls on which it's possible to pin project work. In the Quiet Zone, a place without phones and with private spaces ranging from booths to desks, it's possible to concentrate without interruption.
Along with ergonomic chairs and height adjustable desks, each area is also equipped with a variety of both office and lounge furniture, ranging from low sofas and coffee tables to taller stools alongside bar height desks. «The spaces are designed so that people can sit and move in different ways. We want people to become more active within their working hours, but we don't want to be prescriptive in how they do this,» explains Stefan Camenzind.
Location

St Jakobs-Strasse 25

Basel, Switzerland

Client

Net floor area

Project completed

07.2016
Rest and relaxation
A special feature of the PwC Basel office is the relaxation lounge. Employing natural motifs and organic shapes and with low-level lighting and music, it comes complete with state-of-the-art massage chairs and the MetroNap Energy Pod, a rejuvenation space designed for taking power naps.
«The relaxation room is a very important part of the design. Our client understands that it's not possible to go at full speed all the time, this is why PwC briefed us to encourage employees to relax and recharge their energy levels,» says Stefan Camenzind. «Several studies have shown that power napping significantly improves concentration. While it may seem strange now to take a nap at work, in the future it will be people who don't take time out to relax who are seen as being irresponsible.»
Healthy breaks
The office design includes various spaces in which to eat and relax. Key to the design are the numerous coffee points, which serve both as social hubs and places for spontaneous meetings. Along with drinking water taps, each coffee point also provides a selection of fruit, nuts, choices of tea and coffee, thus actively encouraging PwC staff to take breaks and snack healthily.
Architectural identity
Visually, the design concept is adapted from the PwC's corporate identity and core values. The corporate colours of orange, red and yellow in combination with accents of black help build a strong visual identification with the brand. Bold wall graphics and inspiring statements are constant reminders of the health aspects that the office is built upon: activity, attitude, rest and nutrition.