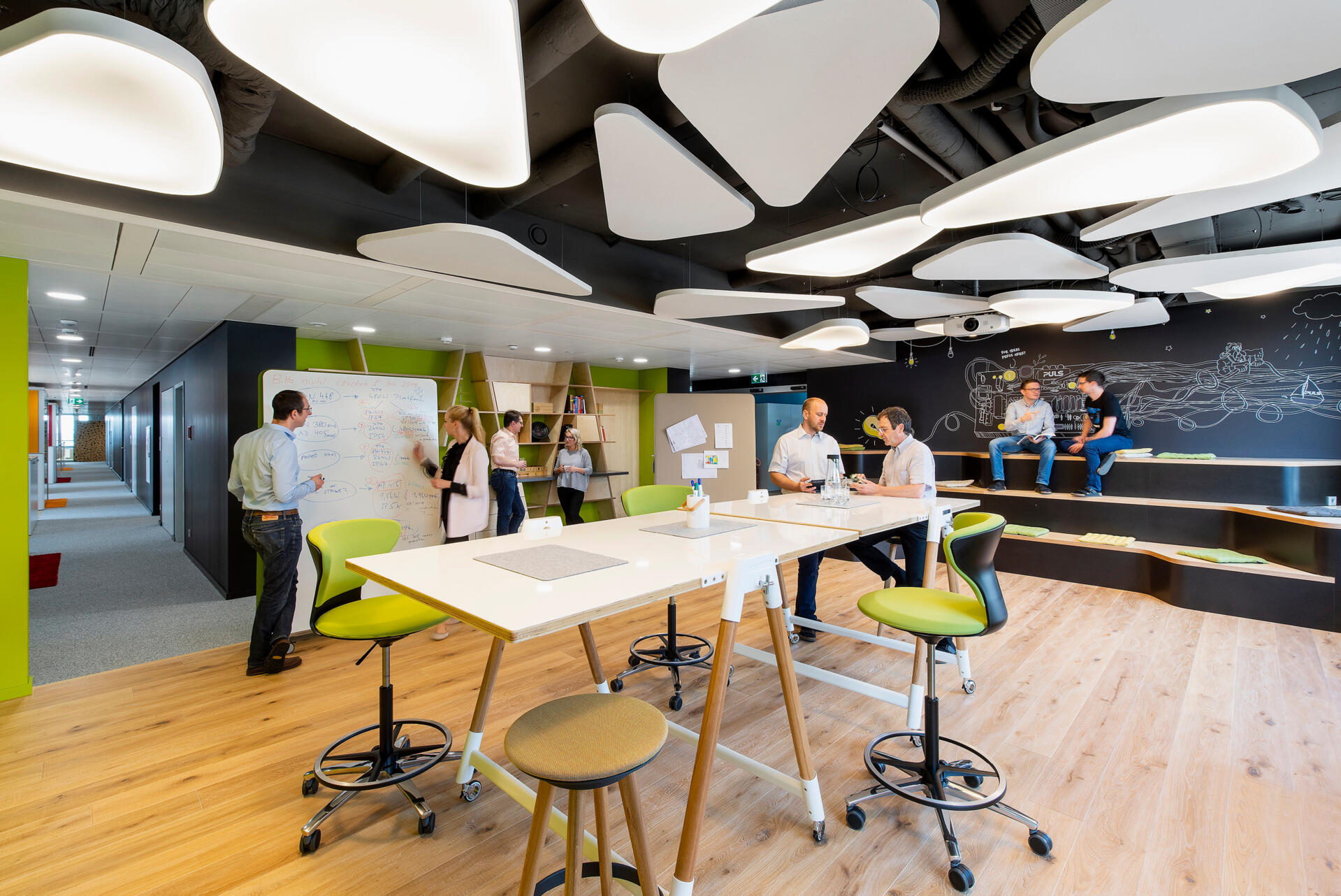 A workplace designed to foster innovation and strengthen a new organisational culture.
ENABLE CREATIVITY
PULS Vario is a subsidiary of the German engineering firm PULS and specialises in customised power supply solutions. The company took the opportunity of changing its premises for developing a new organisational structure and asked Evolution Design to create a work environment that specifically enables the R&D team to focus on innovation.
«Innovation and creativity can't simply be produced on demand. These are processes that have to be enabled and supported. Our design is based on the principles of how innovation occurs to ensure it supports the people who work there in coming up with new ideas and new products,» explains Stefan Camenzind, partner and executive director of Evolution Design.
MIRROR THE INNOVATION PROCESS
The office concept is based on the Vierkanthof, a traditional Austrian farmhouse arranged around a square courtyard where various experts work closely together to achieve common goals. Evolution Design translated this concept into a workplace with four main zones – Retreat, Dialogue, Create and Share – each tailored to support different tasks and different stages of the innovation process.
Location

Kranichberggasse 6

Vienna, Austria

Client

Net floor area

Project completed

03.2018

Awards
RETREAT
The Retreat area, modelled on an Austrian mountain hut, is the first zone. Designed to foster reflection and enable time for individual research and deep thinking, it offers various work modes, from secluded library chairs to private booths. 
«When we were in discussion with the R&D team, they felt very strongly that the Austrian mountain hut was the perfect expression for this area so we have used those cues to create a zone that enables people to think and focus,» says Stefan Camenzind.
DIALOGUE & CREATE
The second phase, Dialogue, is a creative workshop space with long shared tables, whiteboard areas and an informal amphitheatre, where initial ideas are developed further through informal discussions and collaboration.
A high-tech laboratory acts as the Create area, the third phase of the process, where engineers can prototype, test and develop new products.
SHARE
The final stage – Sharing – is a phase for sharing the results of prototyping and testing and inspiring colleagues with ideas for new products. In true Viennese style, this is represented in the form of a coffee house.
«The Viennese café was another important reference for the team,» says Stefan Camenzind. «And as exchange and dialogue are historically a part of the culture of a Viennese coffee house, we felt it was a natural fit.»
CONTINUOUS PROCESS
The office layout, where the four stages flow in a virtuous circle, has been designed to enable continuous creativity – as ideas are evaluated and refined, new ones emerge and the process begins again – supporting the R&D team in their on-going quest for innovation.