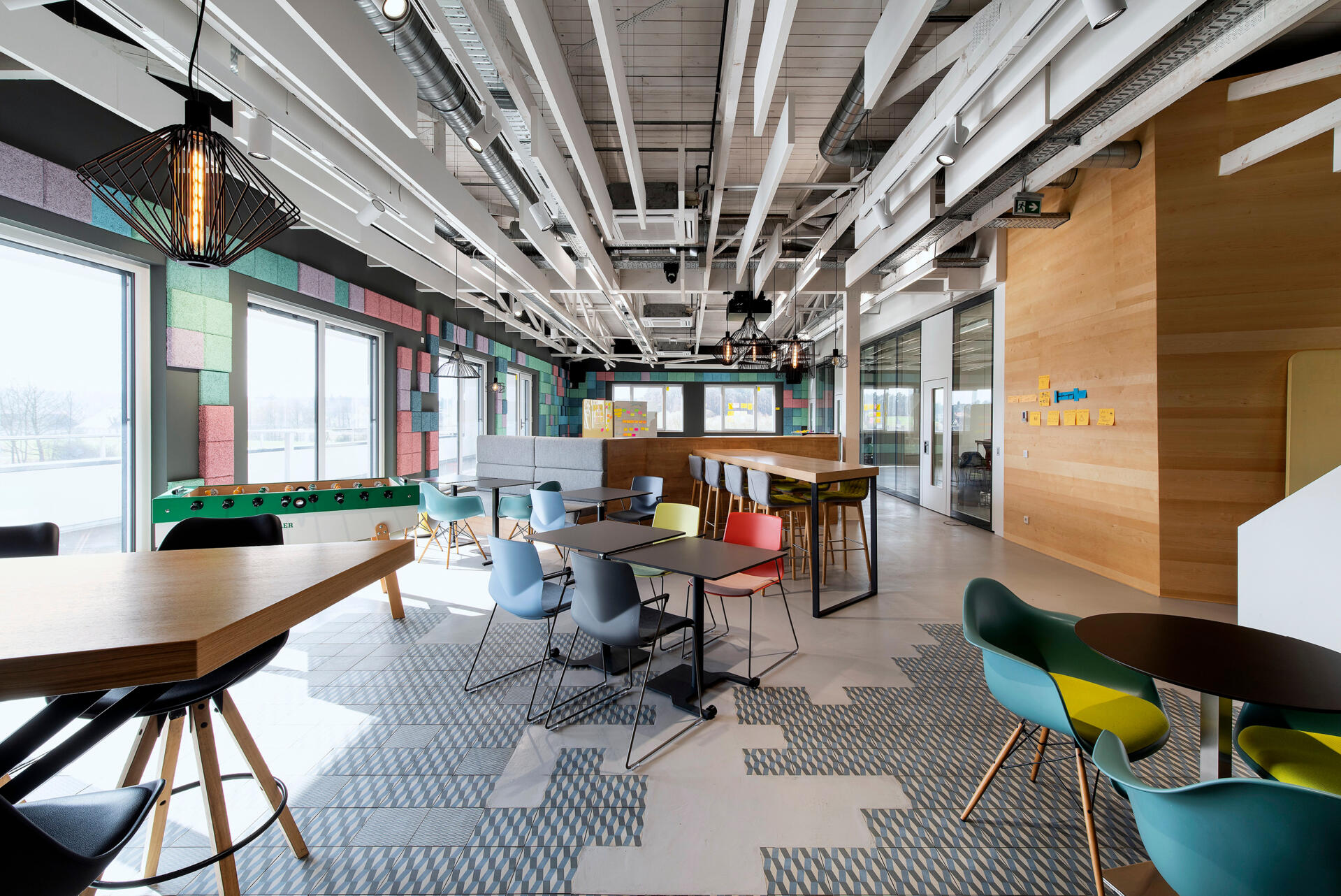 Featuring vibrant interiors, the Digital Transformation Centre of German automobile supplier Schaeffler was conceived to help develop a creative and agile mind-set by providing a work environment that stimulates design thinking, promotes innovation and delivers youthful energy to a long-established firm.
Interiors that facilitate design thinking
Like many companies today, Schaeffler is seeking to break down the traditional vertical hierarchy in favour of a more flexible network of teams to create an agile organisation that is able to deliver faster results. To achieve this goal, Schaeffler's digitalisation team works with design thinking approach – a process that requires maximum flexibility and necessitates the use of different types of workspaces, such as large workshop rooms, prototyping areas, adjustable workstations, event rooms and individual workspaces. The office is, therefore, divided into three main areas that cater for loud and quiet zones, enabling collaborative teamwork without interrupting more concentrated thinking.
Location

Erlangerstrasse 64

Herzogenaurach, Germany

Client

Net floor area

Project completed

03.2019

Awards
Moving from loud to quiet spaces
The first area is the communication/collaboration hub, which houses a large workshop and events area, and a coffee point. This is a buzzing and colourful space that is used for large group brainstorming, presentations and internal events. The hub is fitted with foldable glass partition walls. Depending on the occasion, the partition walls either house three additional smaller meeting rooms or can be opened up, creating one large event room.
The middle area is designed for agile teamwork and is focused on encouraging collaboration. Instead of having assigned individual workstations, this zone is fitted with shared sit/stand desks. The groups of workstations can be modified to suit the number of employees working on a project.
The rear of the office is designed for individual work – deep thinking and focused work – and also hosts a very quiet space for silent working where talking is not permitted.
Communication core
A particular feature of the Digital Transformation Centre is the architectural intervention that connects all three zones: a large irregularly shaped communication core, which houses focus booths, meeting rooms and prototyping spaces. It creates curvilinear connecting spaces, adding fluidity and visual interest to an otherwise rectangular floor plan.
Youthful industrial interior
Aesthetically, the space has a youthful and semi-industrial feel reflecting Schaeffler's digital and engineering background. In the workshop area, for example, exposed ceiling details and a polished concrete floor are softened with colourful chairs and brightly coloured walls. Colour and materials are also used to demarcate areas, with bright blue tones and the use of glass in the livelier team space contrasting with pale green forest motifs and the use of tree trunk dividers that create a feeling of calm in the quiet working space.