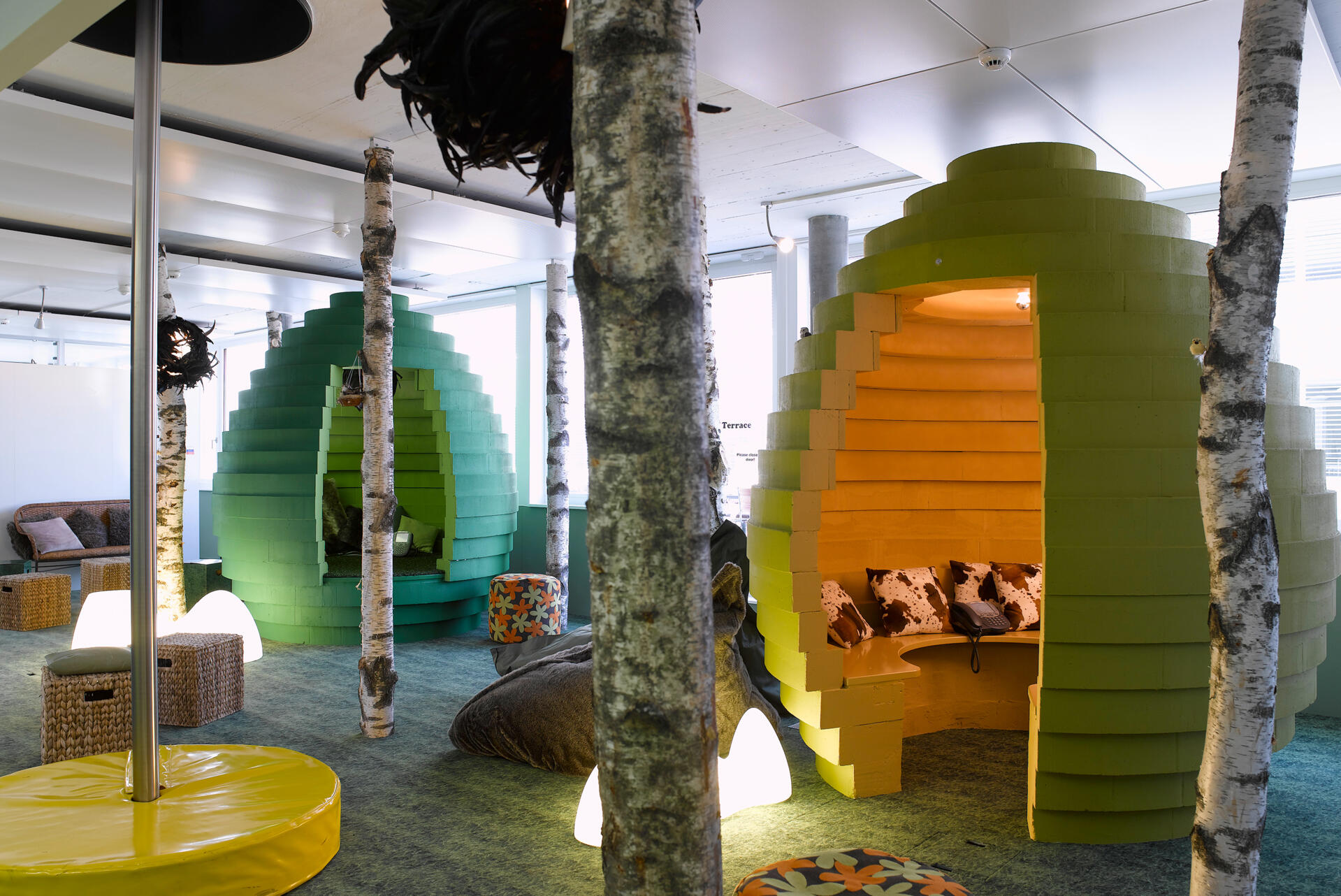 An inspiring and innovative pioneer in workplace design.
Completed in 2008, Google's EMEA Engineering Hub in Zurich was one of the early examples of the future workplace design development and remains one of the most popular workplaces.
WORKPLACE CONCEPT BASED ON COMPANY CULTURE
Google's EMEA Engineering Hub was the first project that Evolution Design completed for Google. With this project, Evolution Design created a pioneering workplace concept that was based on extensive research into the client's culture and values, emotional and practical needs and took into account the opportunities and challenges posed by the existing building, a former brewery. It is a great example of a modern workspace design, which cultivates an energised and inspiring work environment that is relaxed but focused and buzzing with activity.
Location

Brandschenkenstrasse 110

Zurich, Switzerland

Client

Net floor area

Project started

03.2007

Project completed

03.2008

Awards
ENGAGING DESIGN CREATION PROCESS
A key element in the design approach was that the Zooglers should participate in the design process to create their own local identity. Under the guidance of the Director of International Real Estate at Google in Mountain View, an interactive and transparent approach to the architectural process was implemented from the beginning. «A diverse team of local Zooglers were formed as the steering committee to represent the entire office. This committee reviewed, challenged and approved the design throughout the project. This unique method of engagement provided open collaboration, new perspectives and ideas, and supplied a direct sense of ownership throughout the Zurich office,» explains Tanya Ruegg, partner at Evolution Design and creative lead of the project.
CONFERENCE CALL FROM A SKI GONDOLA
This interaction and general research led to create a harmonious yet fun workplace, which provides functional and practical personal workspaces but puts the main focus on communal and meeting areas. Numerous informal meeting rooms, workshop areas, coffee points, restaurants, video conferencing rooms and spaces to relax were created, with a strong visual and aesthetic identity and featuring entertaining elements designed to stimulate creativity, innovation and collaboration.
The unmistakable identity and representation of the local culture became the key element of the entire project. Along with the iconic Swiss alpine gondolas, which have been transformed into meeting pods, the Google's EMEA Engineering Hub also features custom-made eggs for retreat or phone calls, a jungle lounge for focused working, a water lounge with several leather loungers and a bathtub, where Zooglers can have a nap, and of course the famous slide that takes Zooglers from the office floor directly to the restaurant below.
PRACTICAL AND EMOTIONAL WORKPLACE
This diversity of the communal areas provides a great choice of distinctive emotional and visual experiences and activities. These ensure that the entire 12,000-square-metre office is an inspiring work environment designed to satisfy the practical and emotional needs of the more than 50 nationalities represented in the Zurich office.