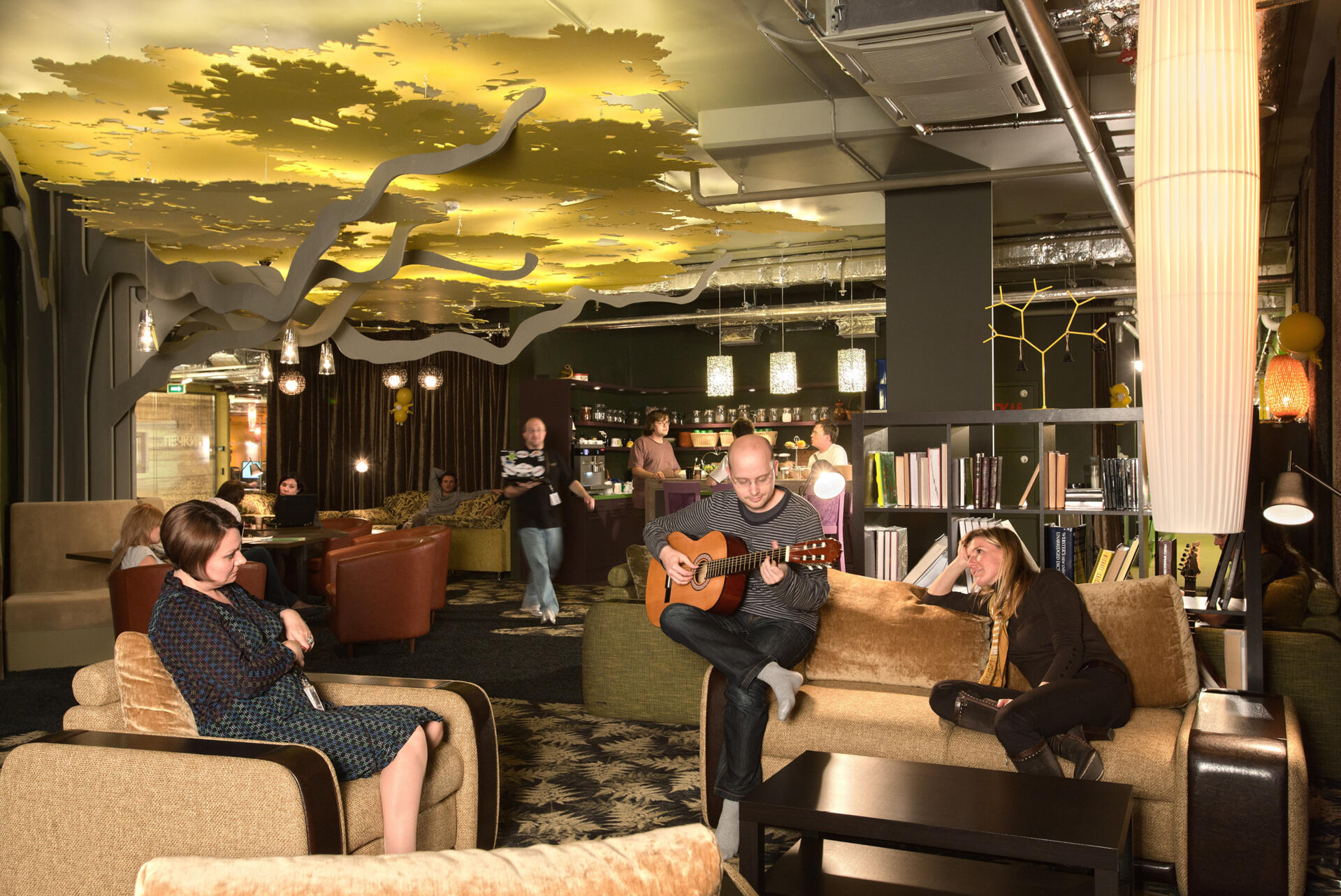 The Google office in Moscow is an inspiring workplace that reflects the local culture, traditions and architectural heritage.
GLOBAL CORPORATE CULTURE WITH A LOCAL IDENTITY
Designed with direct input and collaborative engagement of local Googlers, this workplace unites, previously separated in two locations, engineering, sales, marketing and corporate departments, identifying commonalities, essential needs and the collective spirit of Googlers.
Throughout the design process, the research showed that Moscow employees were strongly aligned with the global identity and values of Google, but they also had a strong desire to reflect these values from a local point of view. They wanted the design to emphasise warmth and familiarity, to reflect the needs of individuals over corporate standards, and they clearly wanted the office to have a strong Russian identity – defined by its rich literature, poetry and natural beauty. 
The resulting interior architecture celebrates the culture of Russian Googlers. Visitors are immediately welcomed at the main reception desk formed out of finely crafted brickwork mirroring the Kremlin's grand architectural heritage. And in typical Google style, it's playful and fun – with areas set aside for video games and ping-pong.
Location

7 Balchug St.

Moscow, Russian Federation

Client

Net floor area

Project completed

10.2010
INTERIORS THAT REFLECT THE CULTURE AND HERITAGE
The cafeteria was inspired by a classical Russian dining room. The food buffets are clad in rich handmade tiles produced by local monks and the ceiling structures reflect light through motifs reminiscent of St. Basil's Cathedral and its wondrous ornaments.
The main office area is light and open with beautiful views over Old Moscow Centre and the Kremlin. Meeting rooms and informal collaboration areas surround the workspaces. These are delicately designed at a human, almost residential scale and are unified through the use of subtle graphics telling tales from childhood cartoons, movies and fanciful fairy tales.
And finally, in the heart of the office there is a special place for Googlers to gather informally in a comfortable, casual setting. It's a large coffee lounge and break out area that is extremely cosy and relaxed. It a place to unwind, work or quietly converse with co-workers under a whimsical tree where the mood is magical.