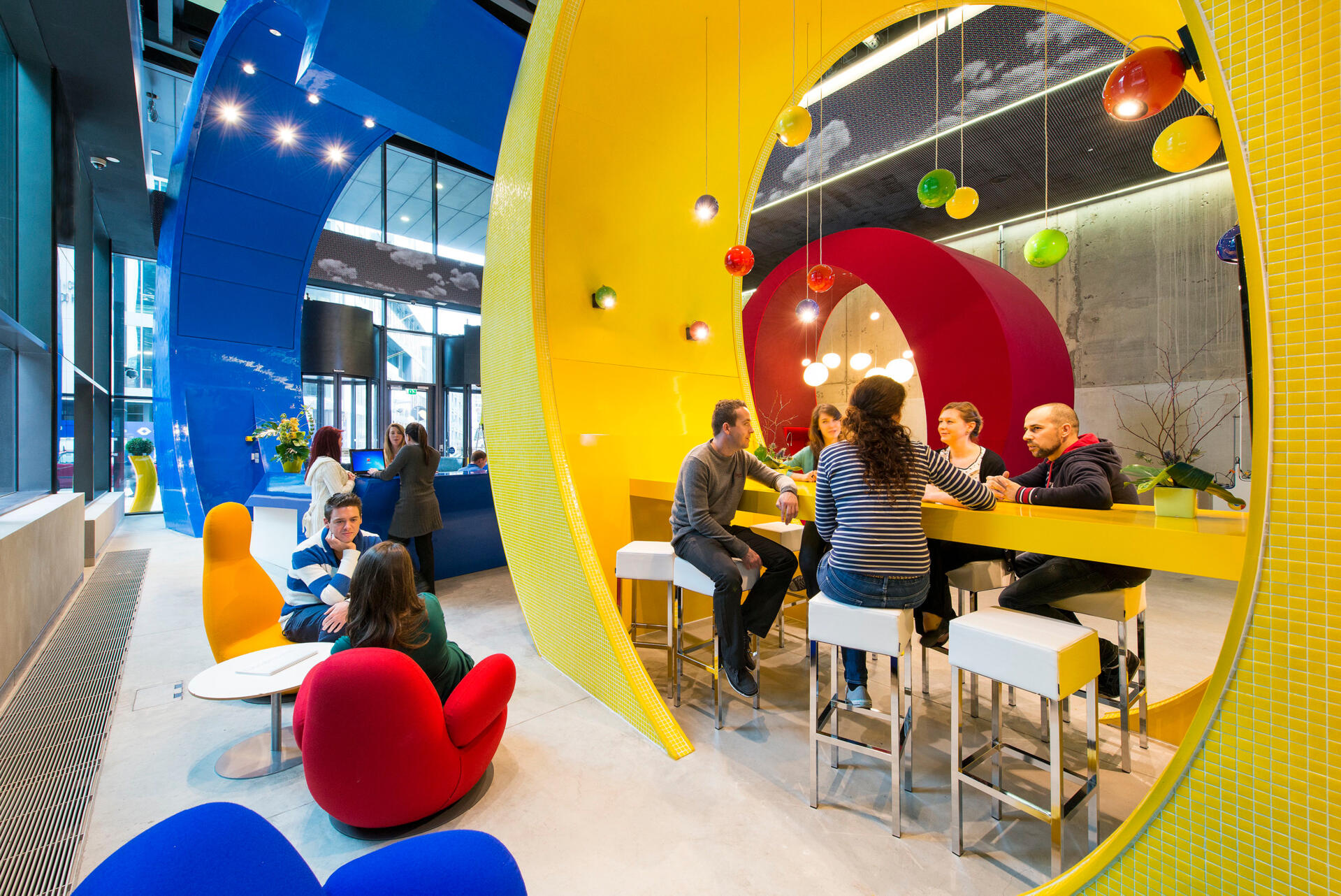 A bustling campus for 3000 Googlers in the midst of Dublin's docklands.
INTERACTIVE WORK ENVIRONMENT
Designed in a vivid and vibrant manner, the Google Campus in Dublin charms with its ingenuity and vibrant interiors. Google offices have been instrumental in redefining how corporate workspaces are crafted across the globe and the Google Dublin campus is no exception: its design has inspired many modern offices to embrace new approaches. Extended across four buildings, which encompass more than 47,000 square metres, the interiors create an interactive environment that encourages an open exchange of thoughts and ideas.
Location

Google Campus

Barrow St, Dublin, Ireland

Client

Net floor area

Project completed

11.2013

Sustainability

Local architects

Henry J. Lyons Architects

Awards
STIMULATING INNER-CITY CAMPUS
Designed to fulfil the role with Google EU Headquarters, the quartet of structures consists of a 14-storey-high Google Docks building along with the Gasworks House, Gordon House and One Grand Canal, all located in Dublin's historic docklands district. The campus, though is far more than a mere work area: Incorporating 5 restaurants, 42 micro kitchens, 400 informal and formal meeting spaces, communication hubs, conference, learning and development centre, tech centres, game rooms, fitness centres and even a swimming pool, it truly is a corporate role model.
«All these additional functions enable as much interaction and communication between Googlers as possible,» says Tanya Ruegg, partner and creative director at Evolution Design. «In fact, as empirical research and studies show, interaction and communication are crucial for creativity and innovation.»
THEMED FLOORS AND COMMUNICATION HUBS
To promote interactivity and exchange, the departments are carefully spread across floors and buildings, with a series of bridges to link the buildings physically. In Google Docks, the main campus building, each of the 14 floors represents the unique identity and strong values of Google – from 'Search', 'Create' and 'Innovate' to 'Be Green'. The main area of each floor is the communication hub which is integrated among various functionalities depending on each floor – from open plan and flexible working spaces to informal meeting rooms and alternative working zones. The distinctive character of each themed floor is reflected through different materials, colours and shapes, with either literal or more subconscious connection applied to the particular theme. These spectacular hubs are created as unique highlights of each floor, bringing an exciting fresh quality to the working experience.
A VIBRANT HUB FOR INTERNATIONAL TEAMS
Started as a challenging project to plan a stimulating and interactive campus within a bustling environment in the midst of the inner city, the campus in Dublin is an incredibly rich and creative work environment for Google's ever-growing sales, marketing, finance and engineering teams, who come from more than 65 countries and speak over 45 languages. Inspired by the local culture and Google's own values, the interiors deliver a balanced and healthy work environment, enabling as much interaction and communication between Google employees as possible.