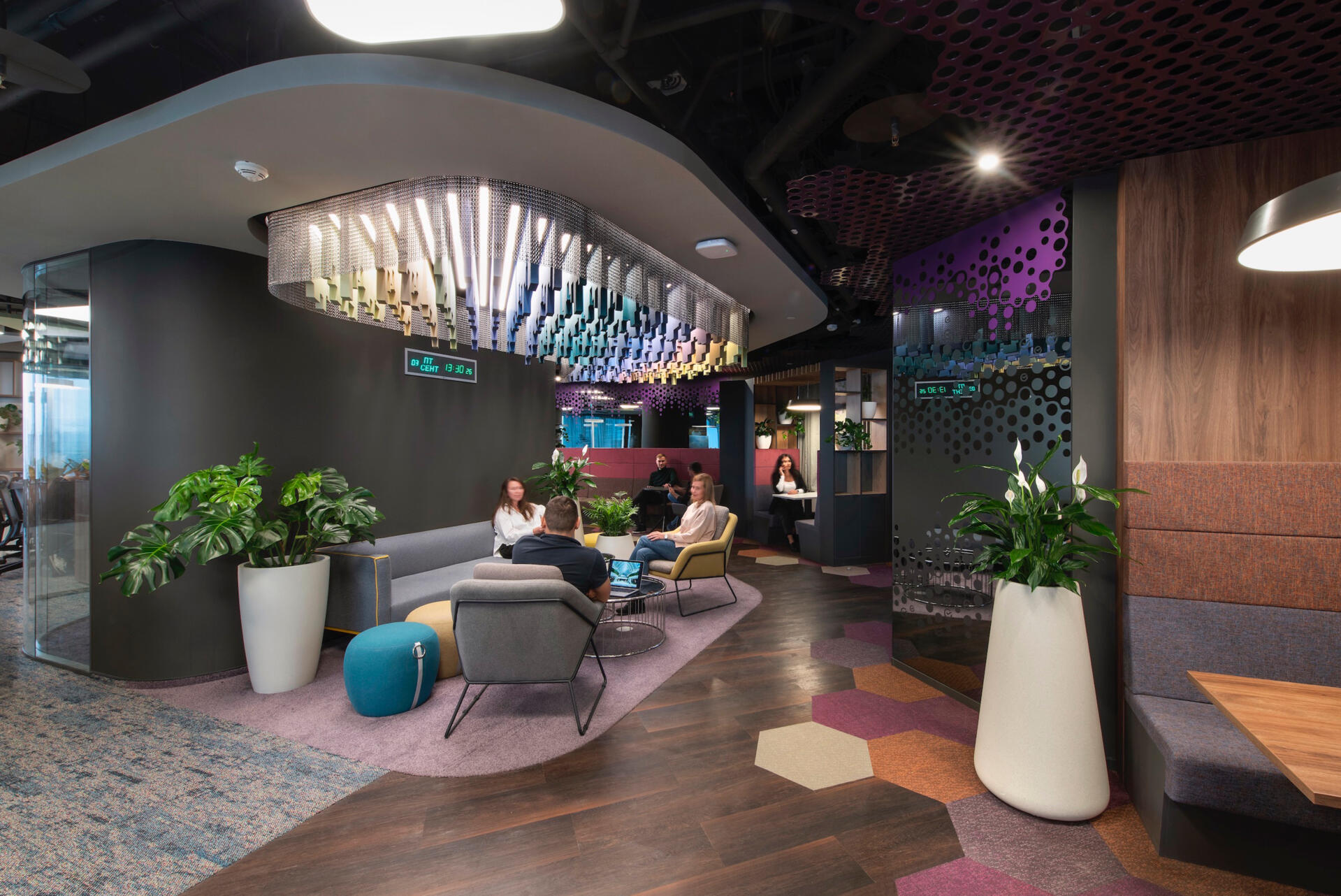 In 2021, Sberbank completed the construction of its new headquarters: two high-rise towers and a striking entry building that are part of SberCity, Sberbank's new campus in Moscow.
The project comprises interiors for over 40 floors in each tower, amounting to 143'000 square metres of space.
Overall design concept
Regarded as a pair of siblings, the design approach was to retain the existing structural similarities of both towers by applying a consistent spatial and functional organisation and furniture and finishes. At the same time, the architects also differentiated both towers by means of contrasting colour schemes and graphics both crucial elements to aid navigation within the high-rise buildings.
Location

Kutuzovsky Avenue 32

Moscow, Russian Federation

Client

Net floor area

Project started

01.2020

Project completed

08.2021

Sustainability

Local architects
Productivity and well-being
Throughout all 80+ floors, particular attention was paid to activity-based workplace concept as well as employee well-being in response to Sberbank's strategy to provide healthy, productive and motivating work environments. In addition to fixed and shared workspaces that are situated along the outer façade to maximise the use of daylight, there are different types of meeting and collaboration spaces. These include rooms for quiet and concentrated work, as well as several coffee points, drinking water stations with smart taps, games room, mini gym, and power-napping stations on each floor.
A huge range of humidity-increasing plants is dispersed throughout the offices, creating a connection to nature and contributing to a healthy climate.
Creativity boost on upper floors
The upper floors of the towers have been created as the culmination of the journey through the workspaces and are crowned with a series of conference rooms, co-working hubs, and a gym. These floors are intended as the energy and creativity booster set against the backdrop of panoramic views of Moscow.
The largest conference room is an impressive double-volume space where meetings are held underneath an impressive Corian-clad 'tree' that cleverly conceals a heavy supporting column.
Another large meeting space has been designed with warm-coloured textures of wood set against exposed concrete. The glazed façade and ceiling open up towards beautiful panorama views and the ever-changing sky.
Inspiring co-working hubs
The double-volume spaces are also maximised in both co-working hubs, each designed with a completely different theme. The Chill is a quiet hub for concentrated and undisturbed work. This space is designed as a lush jungle with hanging gardens of living plants, soothing moss ceilings and a waterfall wall, all flooded by ample daylight.
The other co-working space, the Fun, is designed to resemble a fun courtyard in the midst of a busy city. A hand-painted graffiti wall, created by a group of Russian artists, and illuminated 'flying' bicycles are stunning eye-catchers. A vintage VW bus has been transformed into a working area with integrated desk and seats. The Fun co-working hub is a buzzing space for creative brainstorming, socialising and collaboration.
Fitness floor
With wellness and fitness being an integral part of Sberbank's company culture, the architects have also created a sophisticated gym. The stunning views from the 40th floor inspired the design that is elegant, classic and 'airy' and showcases the cutting-edge fitness equipment in an elegant manner. The atmosphere is powerful, yet discrete; as if the transition from indoors to outdoors might disappear. A beautiful spa area and relaxation lounges enhance the overall wellness experience.