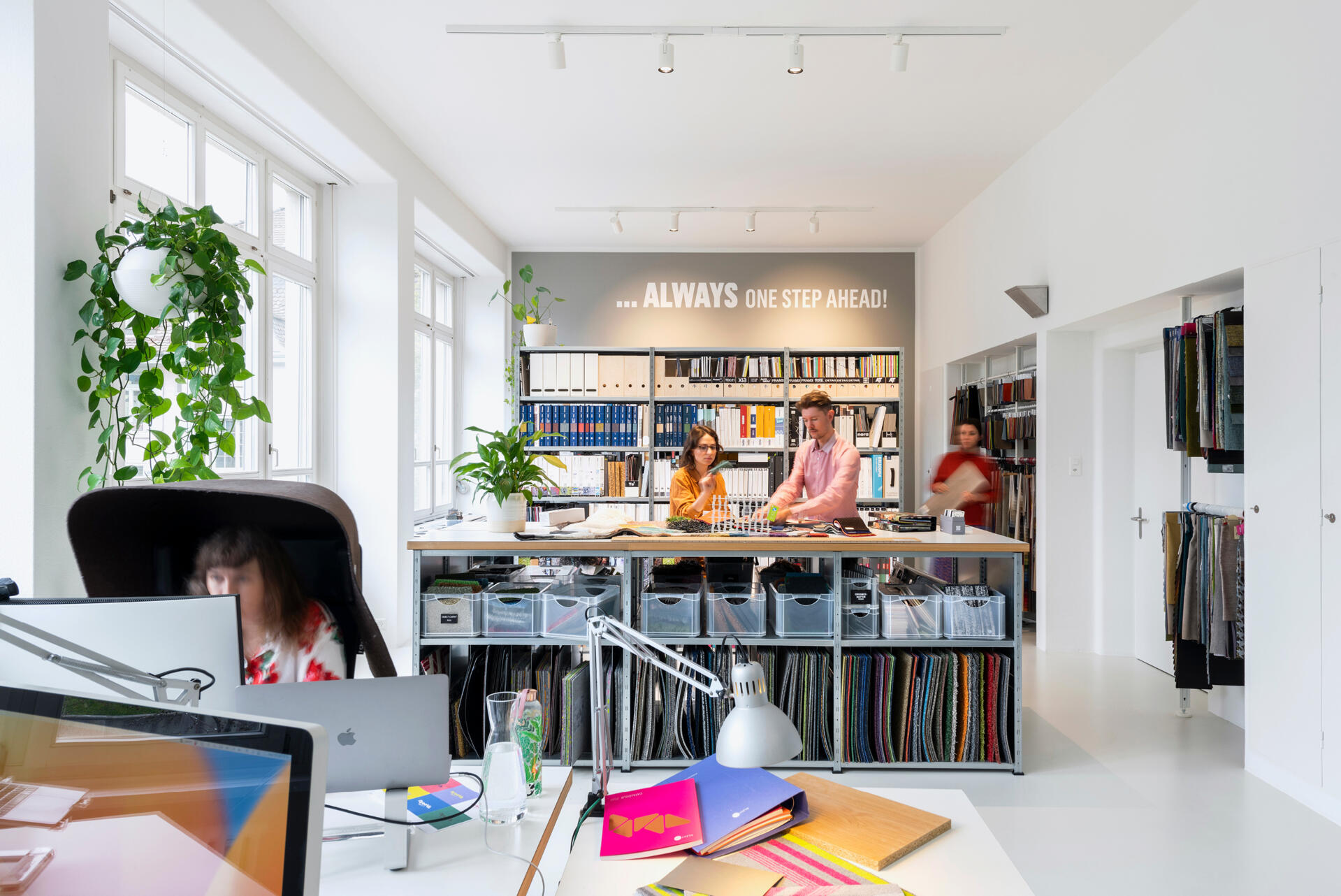 Following the global pandemic, Evolution Design has upgraded its Zurich office into an inspiring studio that encourages team collaboration and social interaction.
Added value for returning to the office
«When the pandemic started, we reacted very quickly and were one of the first companies that decided to start working fully remotely. We wanted to actively embrace the changes in the world of work that the global pandemic initiated,» explains Stefan Camenzind, partner and executive director.
Evolution Design occupies an office space in Pflegi-Areal near Römerhof in Zurich. With its high ceilings and generous, light flooded spaces, this former maternity hospital offers an inspiring place for creative ideas to flow freely. «Our workplace has to offer added value when our team comes to the office. For some staff members it's the ability to concentrate without interruptions, for others it is the possibility to carry out video calls without any background noise, but for most it is the physical possibility to work together and socialise with colleagues,» says Stefan.
Location

Samariterstrasse 5

Zurich, Switzerland

Client

Net floor area

Project completed

01.2023
Cosy and modern kitchen
By demolishing a wall, the kitchen was doubled in size. This created a large and modern space that is perfectly fitted out to allow our team to cook and eat together and have a cosy and relaxed area for social gatherings.
Diverse workspaces
The open plan office space was divided with glass partitions into three new zones. The sample library is one of the highlights of the renovated office. All samples are now well organised, are easily accessible and can be viewed on a large table in the centre of the room. «Materials can now be selected and discussed together with our clients in a practical, comfortable and creative process, adding value to the overall design,» says Tanya Ruegg, partner and creative director.
The standard work area with eight workstations is where teams can work side by side, exchange and develop their projects together. All workspaces can be reserved through an internal reservation system that helps to forecast and manage availability and occupancy. 
The focus room is equipped with four sit / stand desks. Floor-to-ceiling wallpaper depicting a green mossy forest, plant dividers and plush pile carpet create a cosy and reflective atmosphere. Conversations and phone calls are not permitted here.
In order to increase the number of meeting rooms, another large meeting space was divided into two smaller areas, creating a cosy room for smaller, more personal meetings and another bright, vibrant room for collaboration.
Epitome of Evolution Design
Instead of having a reception desk, the central corridor has been transformed into the epitome of Evolution Design's ethos. By applying a geometric ribbon in lime green, the hallway reflects the invigorating process of evolution, design and creativity. It also accommodates two acoustic booths that are equipped with sit / stand desks and large screens to allow for video calls to be conducted in the most convenient and efficient way.
Overall, the studio has retained its original structure and a new layer of Evolution Design's identity has been applied by adding colours, textures, graphics and plants. According to Tanya, «this space with its beautiful room proportions and ample sunlight is spectacular on its own. We added vibrant colours that reflect our design approach, differently textured finishes, fabrics, wall graphics, and lots of indoor plants to achieve an inspiring, energising and cosy atmosphere».