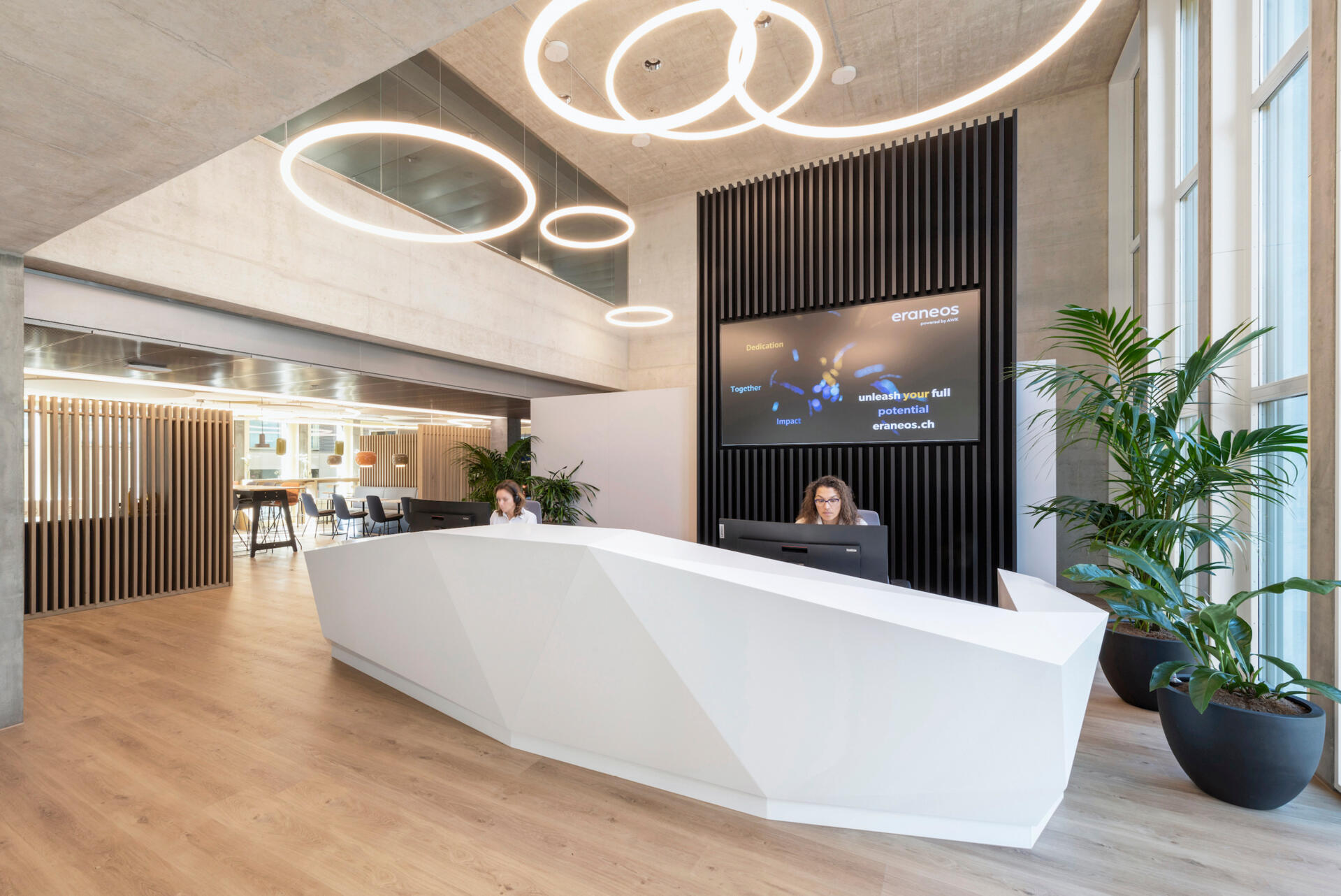 Evolution Design has created the new headquarters of global management and IT consultant Eraneos Group.
Adorned with earthy colours and an abundance of indoor greenery, this is a workplace that supports hybrid work and fosters cohesion within the fast-growing company.
Improve team collaboration
Following a merger with two other companies and a major rebranding to Eraneos, the former AWK Group relocated to new premises in Zurich's commercial Oerlikon district, in order to create a modern and vibrant workplace that responds to the requirements of the workplace that have evolved after the pandemic.
One of the main project goals was to design a comfortable and bright workplace that helps to maintain a 'one-company' culture within this fast-growing organisation. For this reason, Eraneos's employees decided against dividing the office into so-called 'homebases' or areas assigned to particular teams. Private offices are eschewed, too, and employees can choose to work from anywhere within the office, thus encouraging them to encounter colleagues from different departments.
Location

Andreasstrasse 11

Zurich, Switzerland

Client

Net floor area

Project completed

01.2023
Video booths and quiet working spaces
In response to the demand for online video calls and noise sensitivity, each level of Eraneos's headquarters is dotted with video booths and rooms for focused working. Each of the four quiet working rooms has an individual design achieved by applying floor-to-ceiling wall graphics depicting UNESCO World Heritage Sites, such as an ancient European forest, Fernando de Noronha archipelago, Angkor Wat temple complex, and Speicherstadt, the warehouse district in Hamburg.
Lively hubs and event spaces
In order to increase staff circulation between the five floors that Eraneos occupies, three bright and energising coffee points are accessible within the building. The coffee point on the ground floor is part of the reception and a cluster of creative meeting rooms and creates a first impression upon arrival. Designed with different zones – from a coffee bar and a high table to more secluded diners and a phone booth – this area serves as a coffee kitchen but can also be used for informal meetings with colleagues or clients.
Another vibrant coffee point is located on the fourth floor. Linked by internal staircases to the floors above and below, it is the converging point where employees grab a cup of coffee, eat lunch with colleagues or have an informal meeting in a fun, lively atmosphere.
The largest hub is located on the top floor, which has been created to host events. Designed with contrasting light and dark wooden elements, furniture in tones of burgundy red and a custom-design bar counter equipped with a beer tap, this hub is intended to resemble a downtown cocktail lounge where Eraneos staff and guests can meet also after work and enjoy a drink together.