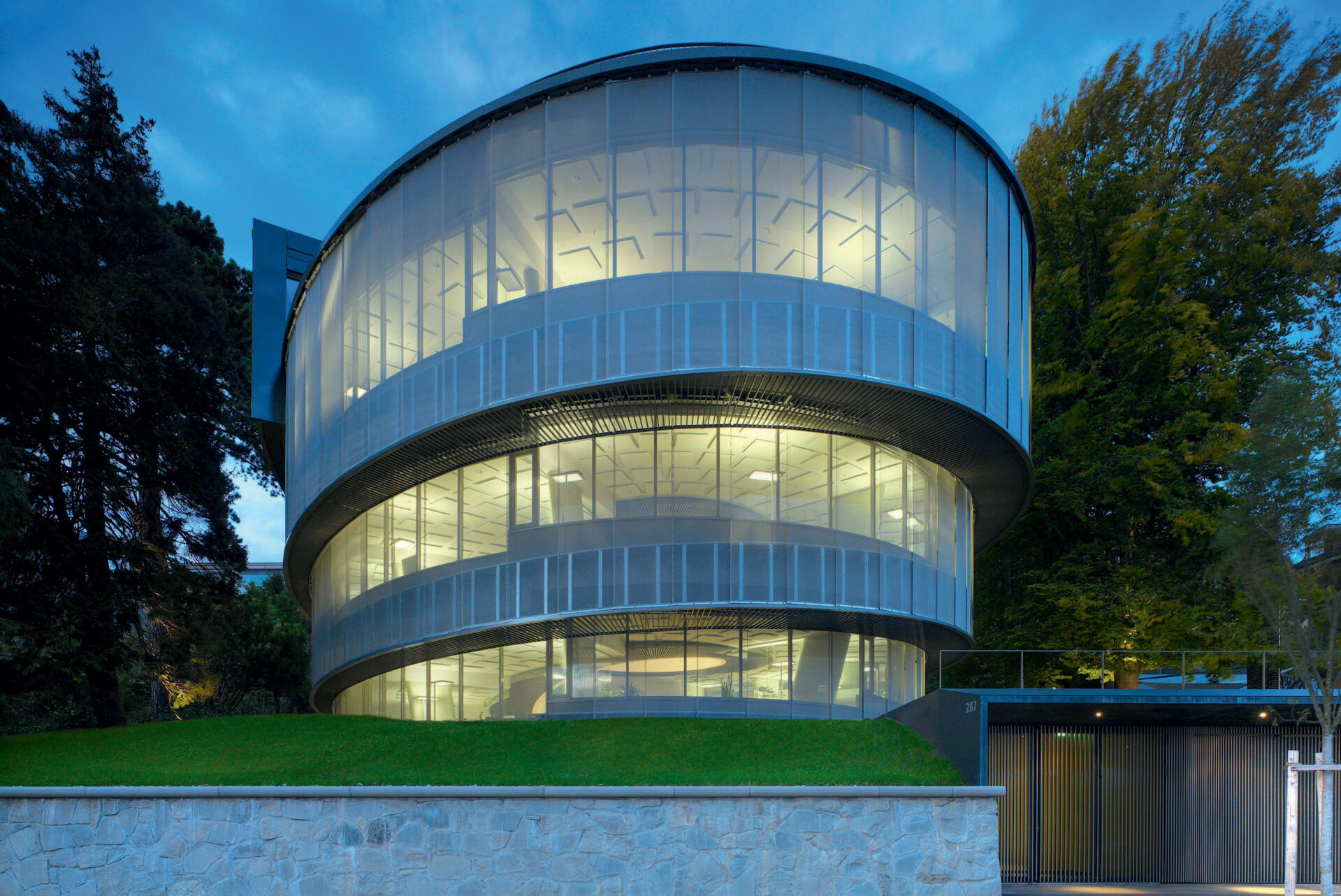 A spiral-shaped office building that creates a communication landscape.
Nestled between mighty, old trees, the elliptical structure reads as a freestanding sculpture that is composed of upward-winding sequence of stepped levels. Flooded by daylight, the spiral interiors create a unique work environment.
NATURAL LANDSCAPE AND URBAN DEVELOPMENT INTEGRATION
Cocoon is located in Zurich's Seefeld district on a beautiful hillside, which enjoys excellent lake and mountain views. The location's distinctive flair stems from the exceptional park-like setting – a green oasis into which Cocoon snugly nestles. The bold freestanding building embodies an innovative concept of internal spatial organisation and interaction with the surrounding environment. In doing so, it caters for a wide variety of workplace and occupancy concepts.
Location

Seefeldstrasse 287

Zurich, Switzerland

Client

Net floor area

Building volume

Project started

09.2003

Project completed

07.2007

Awards
INTERNAL FLEXIBILITY
The internal organisation is defined by the spiral-shaped, upward-winding sequence of stepped levels that create an undisturbed communication landscape. All spaces are arranged along a gently rising ramp, which wraps around a central, light-flooded atrium. By eliminating the usual barriers to communication, this generates a unique spatial experience and an environment that unlocks a host of intriguing possibilities for interaction and co-operation. The floor space design is occupancy-neutral and provides fully flexible partitioning together with the adaptability necessary to meet the shifting needs of future users.
The success of this concept has been demonstrated by the recent changes in use. In December 2015, the building was turned into an enchanting pop-up restaurant and in December 2018 Cocoon transformed into The One – an office building with 20 fully furnished and equipped units along with several communal areas, such as the lounge, coffee kitchen and roof terrace.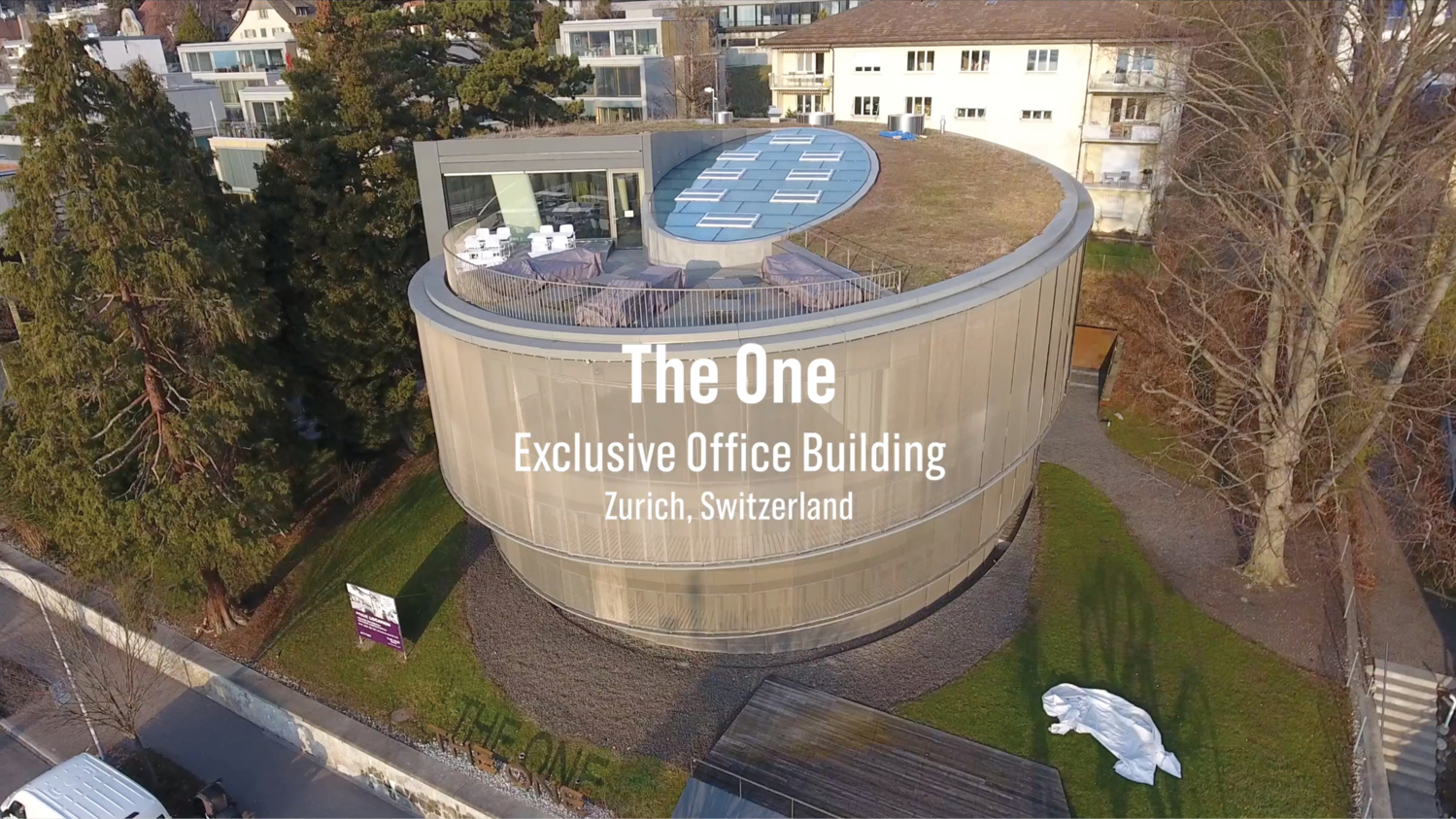 AN ATRIUM FORMS THE CENTREPIECE
A light-flooded, ever-increasing atrium internally forms the centrepiece of Cocoon. The enclosing communicative ramp with its gentle curvilinear lines rises up the atrium, subtly connecting all spaces. With each spiral rotation the ellipses increase in size, which internally leads to a widening of the lightwell. Externally this leads to a dynamic sculptural building.
EXTERNAL APPEARANCE
Flanked on three sides by mighty, old trees the elliptical structure reads as a freestanding sculptural volume that gracefully spirals up from the park. The façade assembly consciously adds a note of subtlety and sophistication to the overall composition. The building is wrapped in a fine veil of stainless-steel wire mesh. This curtain curls elegantly upwards in soft lines along the expanding spiral, its junction with the roof terrace accentuated by an open façade frame. The stainless-steel mesh combines visual privacy with restrained elegance, while establishing a distinctive presence.