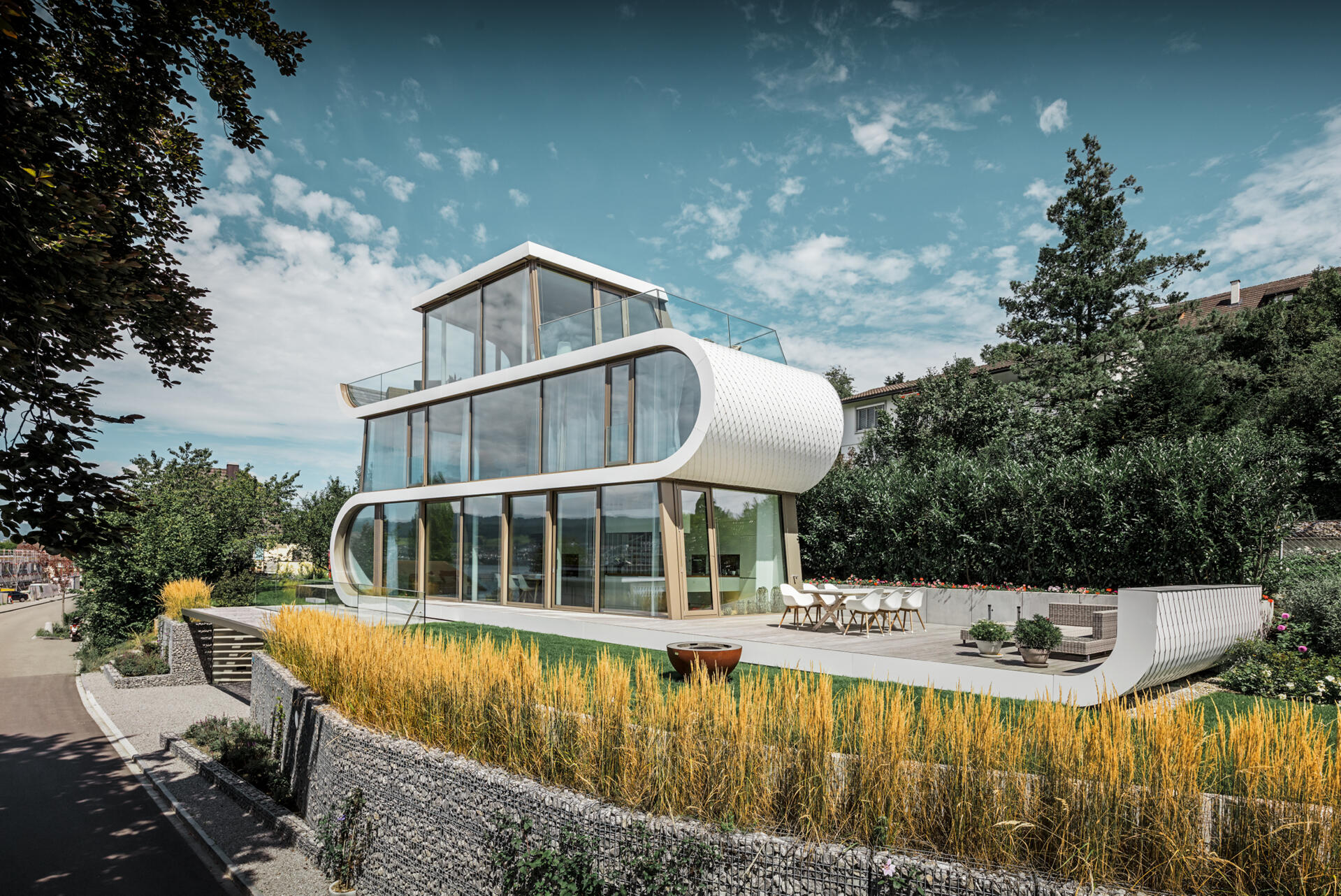 A curved house on the shores of Lake Zurich.
With its wide walls of glass and a ribbon-like white façade that winds its way around the building, Flexhouse is striking with its light and flowing appearance.
ARCHITECTURE IN MOTION
Flexhouse is situated on a challenging site, triangular in shape, narrow and 'sandwiched' between a railway line and the local access road. «It's a very transient site; it has a lot of movement. The land is at the edge of the village where housing meets the countryside. The railway lines behind the site are a dynamic yet soothing boundary and in front of the house there is a local access road and the lake. We wanted to create a building that responded to the site rather than just a square box planted on the site,» explains Stefan Camenzind, lead architect of the project and executive director at Evolution Design.
Flexhouse is anything but a square box. The design features a floor plan that goes from wide to narrow to follow the railway lines and geometry of the site. The striking façade wraps around the building, drawing the eye continuously upward: the house creates a strong dynamic, there are always elements drawing the eye throughout the space and to the views beyond.
Location

General-Wille-Strasse 363

Meilen, Switzerland

Net floor area

Building plot

Building volume

Project completed

03.2016

Sustainability

Awards
INSIDE OUT
The fluidity of the design continues inside, thanks to an open plan interior, unbroken views and floods of natural light, which streams into the space throughout the day. On the ground floor, the spacious living room transitions into a dining area and loft-style kitchen. Rather than close off individual floors, the design incorporates a double volume open space that allows the eye to travel, delivering a glimpse of the bedrooms above or, from the first floor, back to the living room below.
With glass walls on three sides this home blurs the boundaries between outside and in. «Connecting inside and out is very important to me as an architect,» says Stefan Camenzind.
The top floor studio with its panoramic views and two roof terraces is the culmination of this seamless flow between inside and out. The house does have its quiet corners, too. «There's always a back wall, which helps give a more cosy feeling,» says Stefan Camenzind. «And you can close the blinds to create a peaceful, private corner.»
ECOLOGICAL STANDARDS
Ecologically, Flexhouse meets Switzerland's Minergie standard with features including thermally activated concrete floors that connect to a geothermal heat pump to heat the house in winter and cool it in summer. The glass façades are triple glazed and have external blinds for optimal control of heat gain from the sun.
FLEXHOUSE IN THE MEDIA
Over the recent years, Flexhouse has been featured in numerous publications and TV productions, for instance