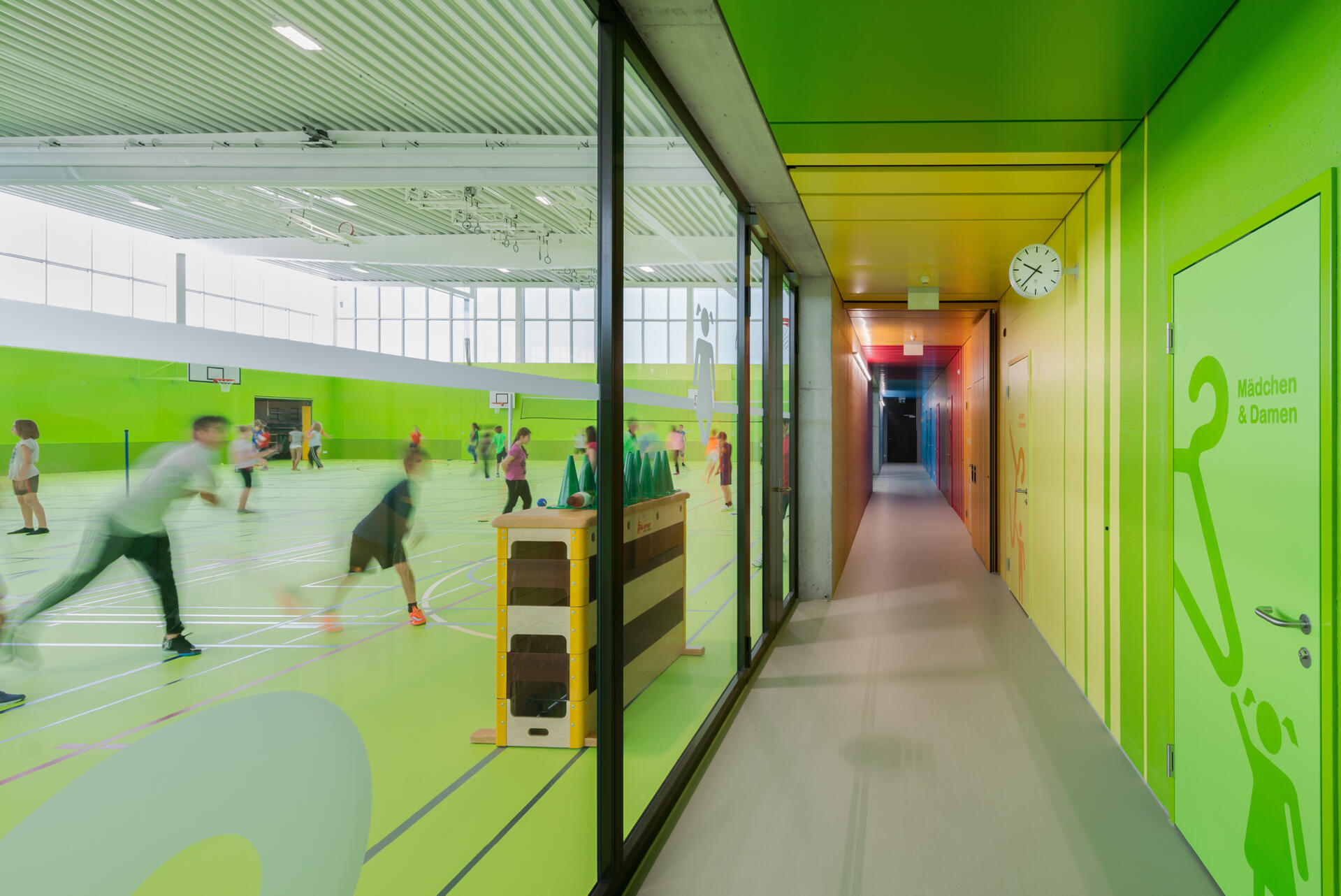 Vibrant colours and use of daylight are key elements in the design of this sports centre.
CHILD-FRIENDLY DESIGN
The centre is primarily used by children; therefore, colour has been used both decoratively and as a navigation device. Changing rooms are coloured rather than numbered and each shower room is a simple concrete and wood design that is enlivened by bright primary shades. «Very often architects design for adults, but children have different needs,» says Tanya Ruegg, principal designer of the project and creative director at Evolution Design. «We felt it was important to use colour. Not only is it easier for children to navigate with colour, but it's more playful and taps into the way how children see the world.»
Natural light also plays an important role. The glazed upper level of the building delivers ample light and, because of its scale, a real sense of being part of the outdoors. «It's important that the centre doesn't feel dark or dingy. We want to create a space where you have a sense of time passing,» maintains Tanya Ruegg.
Location

Feldgässli 1

Strengelbach, Switzerland

Client

Net floor area

Building volume

Project completed

12.2015

Sustainability

Awards
SIMPLE, YET EFFECTIVE APPEARANCE
Colour is particularly important in the design, because the building itself is very simple in both construction and materials in order to meet a key component of the brief, namely the centre was commissioned by the local municipality of Strengelbach and cost efficiency was a key consideration.
As the site is slightly inclined, the design accommodates this by being higher at one end than the other, as if it grew out of the slope. The façade, too, has been designed to blend in, with an upper glazed level that reflects the sky and changes colour depending on the time of day. The stucco base features a pattern of sporting icons, creating a unique visual identity for the building.