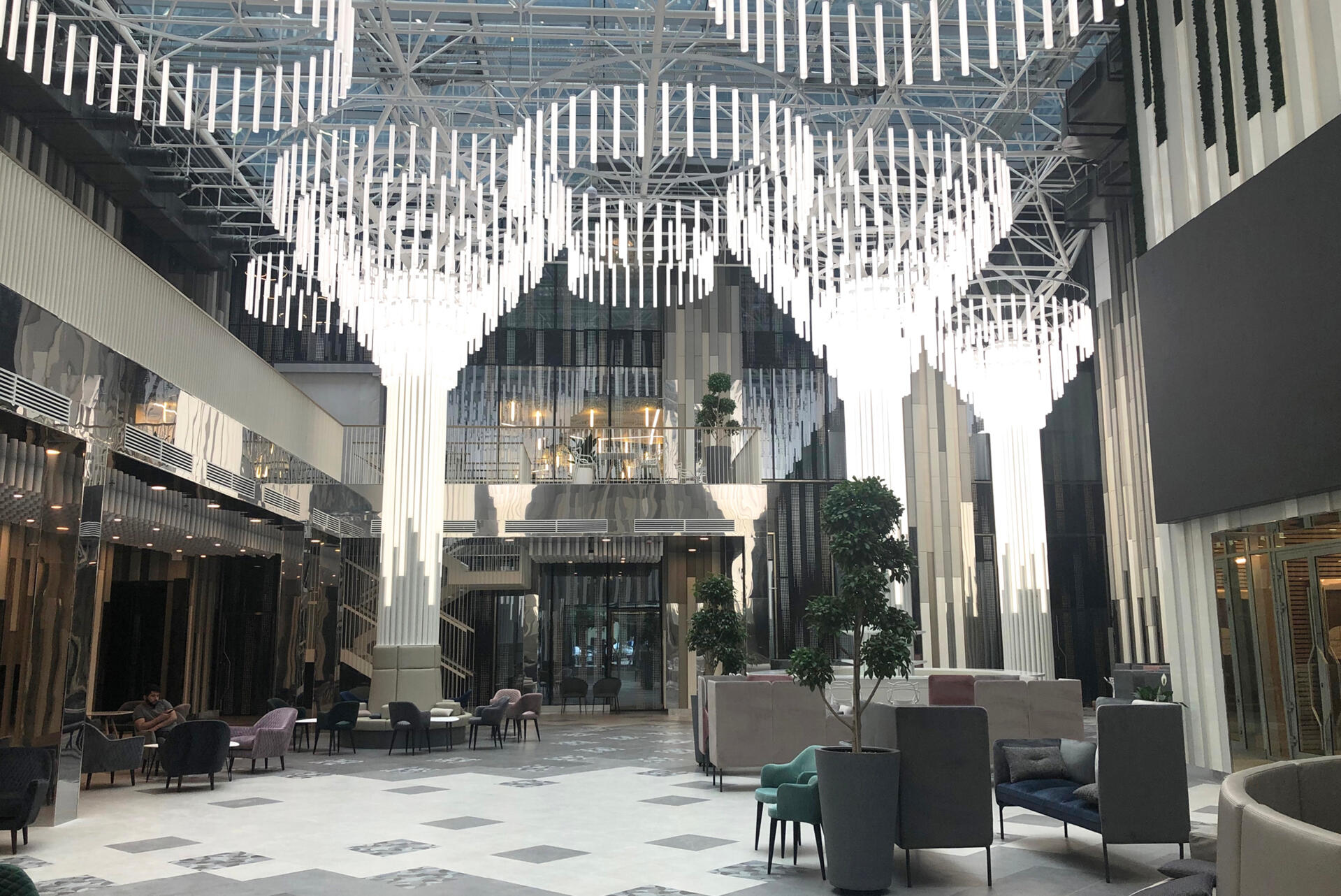 As part of the design concept for the Sberbank's offices in building E, Evolution Design transformed two unremarkable atria into striking meeting and co-working hubs.
Designed as two opposites, the SberPark resembles a lush park filled with food carts and coffee kiosks; while the SberPlace is modelled around the idea of a crystal palace.
SBERPLACE
SberPlace, the southern atrium, is developed around the concept of a crystal palace. The original columns are cleverly transformed into lighting sculptures that fill the space with light and amplify the sense of brightness and openness. The custom-design lighting technology can be adjusted from bright daylight to candle light, creating different atmospheres and allowing for the use of various light scenarios at different events.
Like the other atrium, SberPlace also houses several coffee and snack kiosks and provides different seating arrangements for meetings, individual work or co-working. The inserted gallery doubles as a viewing platform when events take place and, as it is connected to the main canteen restaurant, it can also be used as an additional space for lunch breaks.
Location

Kutuzovsky Avenue 32

Moscow, Russian Federation

Client

Net floor area

Project completed

06.2019
SBERPARK
Originally, both atria were underused and rather unremarkable spaces, open to the elements, and used for short-term parking. Evolution Design proposed to cover both spaces and create cosy event and co-working hubs, accessible not only to Sberbank staff, but also to the public. 
SberPark, the northern atrium, is designed as a city park with lush plants, green walls and large trees dominating the 860 m2 space. Reaching 12.5 metres in height, SberPark houses several coffee and snack kiosks and is used for co-working, informal meetings and coffee breaks. Equipped with a mobile stage and a large screen, the hub also hosts large events and presentations.
The custom-made acoustic panels resemble foliage, while the specially designed lighting remind one of natural sunlight filtering through the treetops. Together, they create a visual and sensual impression of being out in the nature. The inserted balcony on the first-floor level is a great viewing platform for presentations and also allows the increase of the number of participants in large events.