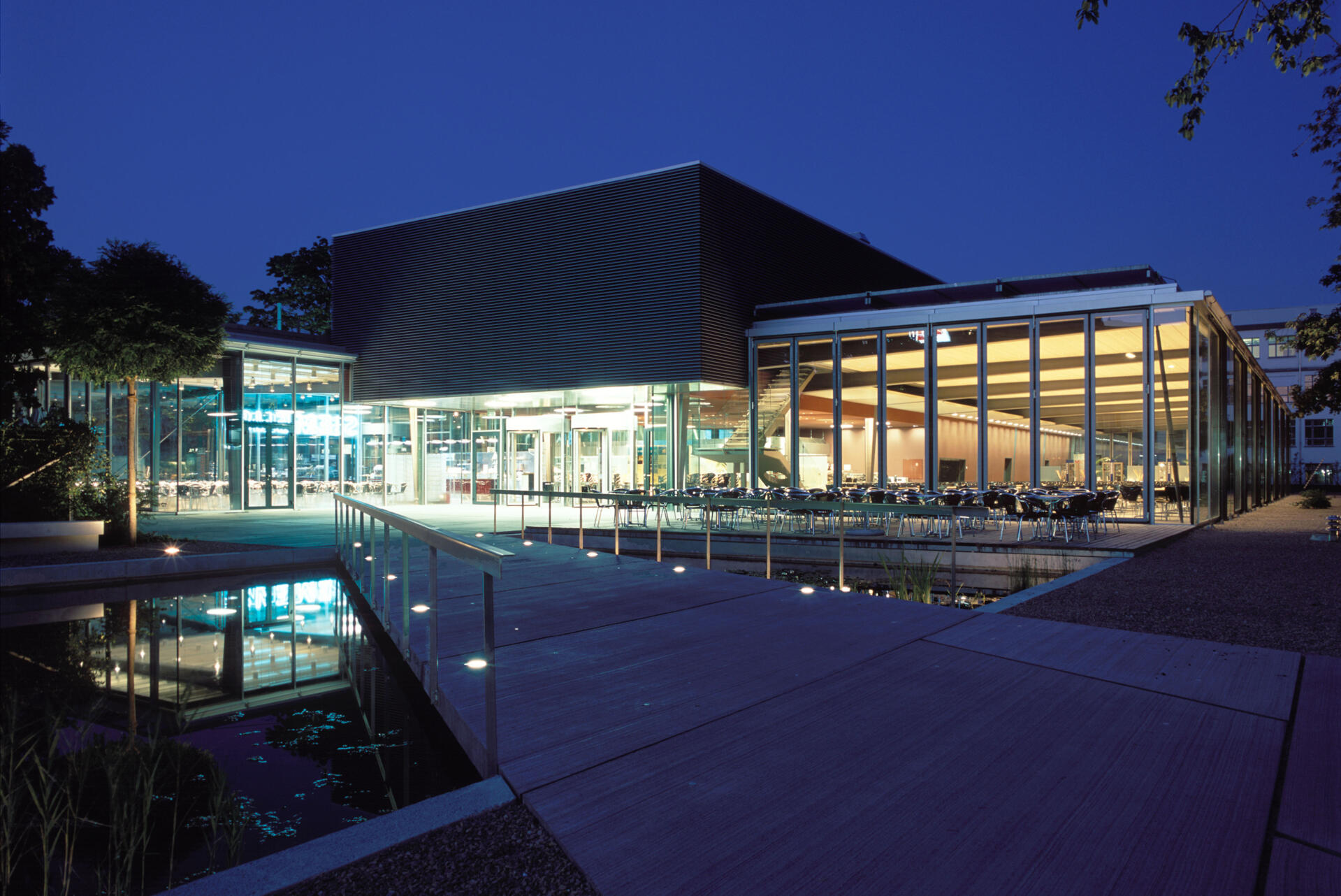 Three beautifully designed staff restaurants that provide an al fresco dining experience and a revitalising lunch hour.
A recharging lunch hour
The building concept extends beyond just providing subsidised food. In order to acknowledge people's desire to relax and mentally recharge in their lunch hour, the variety of dining environments within the building enables visitors to choose where they wish to eat according to their mood on any given day. The fully glazed façade provides restorative and uninterrupted views of the water feature and landscaped gardens surrounding the building, while outdoor terraces invite relaxing al fresco summer dining.
Location

Albisriedenstrasse 245

Zurich, Switzerland

Client

Net floor area

Project started

01.2000

Project completed

05.2002

Seating capacity
GLAZED VOLUME
The restaurant complex is located at the former Swiss headquarters of Siemens in Zurich and although open to the public, it mainly provides catering facilities for their 1,500 personnel. The building contains three restaurants called Move, Relax and First as well as a cafeteria named Point, offering seating for 700 people.
The constraint of a very tight budget dictated that the building volume was kept to an absolute minimum. The architectural concept was, therefore, achieved by splitting the minimal volume into three sections and moving these along each other. Through precise overlapping and intersecting of the separate volumes, the entrance areas and outdoor and indoor spaces were naturally formed.
To enforce the concept of the three building sections, all façades at the ends of each section can be fully opened by means of folding glazed doors. These connect the internal spaces directly with the outside terraces of the landscaped gardens.
PRACTICAL CONSIDERATIONS
Due to high ground water levels, the building has no basement and all plant and storage facilities are located on the first floor. Strict energy regulations allow the restaurants only to be ventilated and not air-conditioned. The main challenge for temperature control is the body heat given off by over a thousand visitors during the two-hour lunch break. To avoid overheating on hot summer days, the building can transform itself into a covered outdoor restaurant by opening up the entire east and west façades, as well as the large sliding windows on the south façade. In this way the building converts into an outdoor space and any potential heat build-up inside can dissipate.